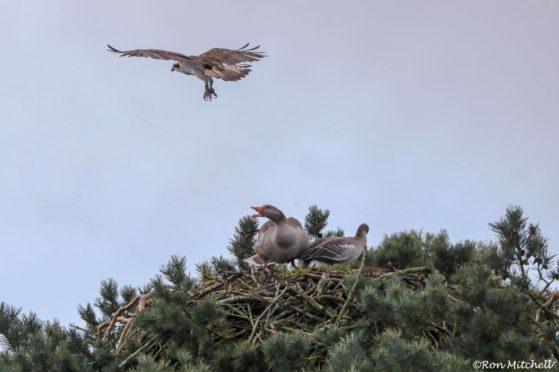 Twitchers at an Angus beauty spot have been gripped by a battle of the skies as the bird breeding season begins in earnest.
Incredible scenes of aerial fights for supremacy over a nest at Balgavies Loch have ruffled more than a few feathers.
Regulars have watched the antics of a pair of ospreys trying to dislodge a pair of greylag geese which took up residence- and would not budge.
For 10 days the geese dug in, fighting off the dive-bombing ospreys which have returned to Scotland after wintering in Africa.
However, on Saturday visitors noted the greylags had left with the ospreys settling back into the nest.
Jim Hughes, resident warden at the Scottish Wildlife Trust's nature reserve near Forfar, said the next few days would be crucial if the ospreys are to remain in the area.
He said: "The battle has been going on for about 10 days.
"Some of us are of the opinion the female osprey which arrived after the male was not the original female, she was not as feisty.
"The geese seemed to have control of the nest.
"The next thing the larger female appeared, we think the original from last year, and there was a right tussle."
The sight of a pair of geese in the nest is not an isolated occasion.
They raised young there in 2010 and 2011 before the ospreys moved arrived in 2012 – and the ospreys have been there since.
However, there have been fears this year they may have met their match.
Mr Hughes continued: "It is fascinating, the geese can handle themselves.
"The ospreys are not really aggressive. When they were dive-bombing the geese they were just skimming their heads, but they have huge powerful talons – the damage they could inflict.
"They can pluck a huge fish out of the water with their claws. They are magnificent birds."
The ospreys prompt visitors to flock to the reserve from far and wide, including the north of England, so there are high hopes the ospreys have re-claimed their territory and will welcome another brood of chicks.
Three were reared last year, with 16 chicks in total since 2012.
With the news the first egg was laid by the female osprey at the Loch of the Lowes in Perthshire on Thursday, Mr Hughes hoped, all going well, it would be a similar tale at Balgavies around April 16.