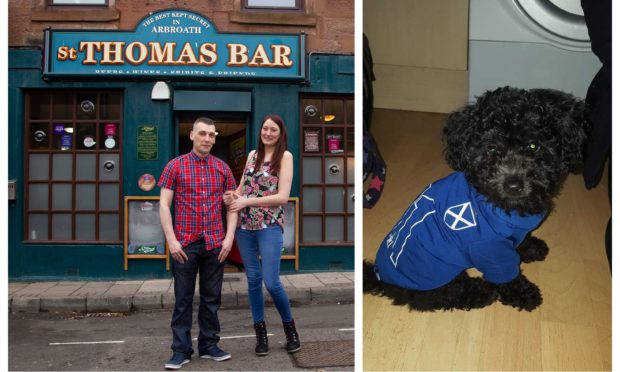 An unlucky groom almost found himself in the dog house on the day of his wedding after the family pet dog bolted from its home.
As his bride-to-be Hayley Crookshank was preparing to walk down the aisle at the Old and Abbey Church in Arbroath on Friday morning, Norman (Noz) Guthrie discovered their beloved jackadoodle Arlo had done a runner.
And with the clock ticking the priority had to be getting to the church on time.
The wedding party had hoped to keep Arlo's bid for freedom a secret from the bride in case it ruined her special day, but word soon got out.
She said: "The dog was accidentally let out of the house and everyone thought it would be best not to tell me as I would worry. But my dad told me as we were leaving for the church.
"We were in the car and he said he had some bad news for me. He had been told not to tell me but thought it was better I knew."
Hayley, 25, took part in the whole wedding ceremony without any of her guests – and her husband – knowing she was aware the dog was missing.
She continued: "I waited until we were outside the church getting photographs taken and I asked Noz – have you found the dog?
"They were all panicking and searching for him, everybody was told not to tell me."
Hayley, who runs the St Thomas Bar near the couple's home in James Street, was initially "shocked and worried" about Arlo but an appeal on social media revealed he had been found safe and well.
"We got loads of replies and found out Pauline Anderson had found him near the dual carriageway and had taken him to Abbey Vets," she said.
As he didn't have a chip, he was handed over to the dog warden and taken to a kennel in Forfar and is due to be released this afternoon.
Hayley was relieved the shaggy dog story had happy ending.
"We heard just before the reception he was safe and had been found," she said.
"We are so grateful to everyone, and to Pauline who found him and took him to the vets.
"We can't thank them enough. It's not worth thinking what could have happened.
"He was missing for a couple of hours but it all ended well at the end of the day."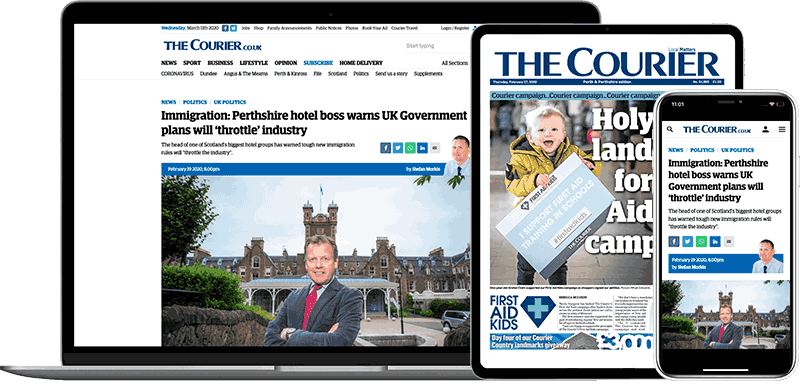 Help support quality local journalism … become a digital subscriber to The Courier
For as little as £5.99 a month you can access all of our content, including Premium articles.
Subscribe