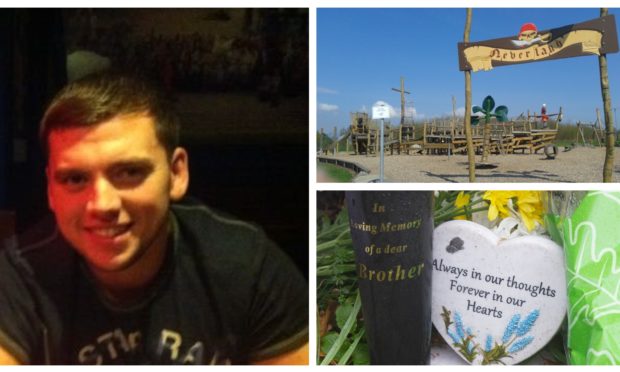 Callum Davidson told a relative "the boy's car was a fine car to drive" on the day Steven's Donaldson's burnt body was found beside his fire-ravaged BMW, jurors have heard.
Teenager Kieran Howcroft said he had been "a bit gobsmacked" by the murder accused's remark in Kirriemuir town centre.
The High Court in Edinburgh was told Davidson went on to insist his comment had been intended as a joke as rumours swept the town in the wake of the Kinnordy Loch discovery.
Forensic expert believed two people dragged Steven Donaldson across car park before setting car on fire with him partly underneath
Mr Howcroft, 18, told the trial he had spent a lot of time in the company of Davidson's co-accused Tasmin Glass in the weeks leading up to last June, but that he had then distanced himself from her, as well as from Davidson and the third person on trial for Mr Donaldson's murder, Steven Dickie.
He agreed with a suggestion by advocate depute Ashley Edwards that this was because he believed there was a friendship between Glass — who he was seeing at the time — and Dickie.
Mr Howcroft gave a statement to police on June 12, in which he said he had met Davidson in the town centre on June 7 and had spoken to him "because he was family" about the rumours circulating the town.
They talked about the discovery of the body at the nature reserve and Mr Howcroft told the court: "He made a brief joke but then 100% told me it was just a joke about the man's car."
Pressed by the prosecutor on his recollections, the witness replied: "He said something about the boy's car being a fine car to drive."
Mr Howcroft added: "I replied, 'I hope you're not being serious' and he went 'I'm not being serious'."
The advocate depute asked him: "How did you feel?"
Mr Howcroft replied: "I was a bit gobsmacked."
Asked how Davidson appeared that day, the witness said he was "absolutely fine".
The court also heard evidence from retired opera singer Anne Marie Scrimgeour of Blairgowrie, who said she had taught Glass singing since around the age of 12.
Mrs Scrimgeour said the last time she saw the accused was on the afternoon of Thursday June 7 last year.
Glass had called to say she would be late for her weekly lesson. When asked how her pupil was, the witness said: "She seemed fine."
Mrs Scrimgeour added: "She did say when she first came in that there had been a body found at Kinnordy and it was very upsetting that something should happen so close to home, but apart from that she was as normal."
The court heard that the following Thursday the accused's mother had phoned to say she would not be able to attend.
The trial continues.