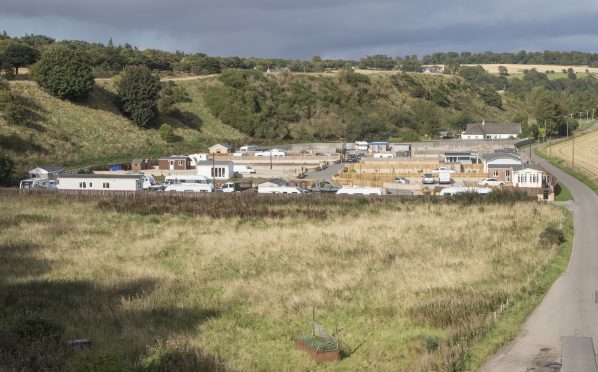 Retrospective planning applications for an illegal Travellers' site in St Cyrus have been recommended for refusal.
The two fresh applications will be considered by the Kincardine and Mearns area committee next week before determination by Aberdeenshire Council in June.
Sepa has already objected to the retrospective planning application before it is considered by Aberdeenshire Council, whose own environmental officers are also against it.
Retrospective plans were lodged for a 10-stance caravan park and nine-stance halting site in the latest stage of a bitter six-year fight for approval.
Stephen Archer, director of infrastructure services, discussed the eventual consequences of enforcement action.
"If the applications are refused the Gypsy/Traveller community at this site will be living with the uncertainty of whether they will be able to use the site in the long term," he said.
"If the application is refused the applicants can appeal the decision.
"If the refusals are upheld at appeal the council would need to consider action to remedy the unauthorised development of the site.
"If direct action was taken to remove the development, this would displace the Gypsy/Traveller residents and remove the provision of a touring site for use.
"At present there are no established Gypsy/Traveller sites in the Kincardine and Mearns part of Aberdeenshire.
"This would potentially leave the community with nowhere to live or limit access to education and local services."
There have been 59 objections lodged and 70 representations in support of the planning applications.
However, Mr Archer said although there is a social need for Gypsy/Traveller sites "the strength and nature" of the continued objection from Sepa indicates that the flood risk aspects "do not have any prospect of being overcome".
He said: "As such the site continues to be one that cannot be considered to be an acceptable one for this form of development."
Despite a protracted legal battle between the Travellers and council, development on the unauthorised site has continued since the first homes appeared on farmland, close to the River North Esk, in 2013.
Aberdeenshire councillors voted overwhelmingly to grant retrospective permission for the creation of an official halting site in 2016.
However, the application was called in by the Scottish Government when Sepa objected, revealing the site had flooded in 2002, 2012, 2013 and 2015.
Scottish ministers overturned the retrospective permission and the Travellers were given until July 31 last year to clear the site.
The local authority then agreed to extend the deadline by six months and has been involved in "continued dialogue" with the community.