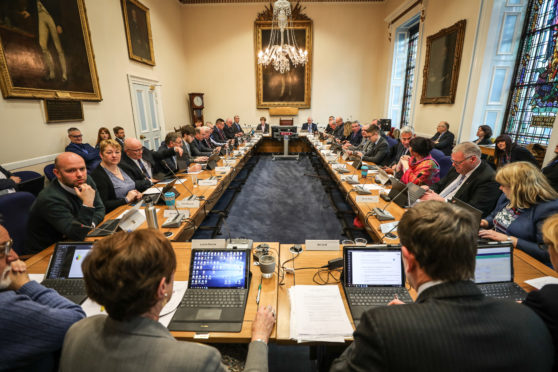 The "dark days" have returned to Angus democracy, it was claimed yesterday, after opposition politicians were ousted from a key budget group.
The claim was made by independent councillor Brian Boyd as deputy council leader Angus Macmillan Douglas led the successful removal of SNP members from the authority's long-standing policy and budget strategy group in an ill-tempered Forfar meeting.
Mr Boyd said the people of Angus deserved better than a rerun of "us versus them politics" after the split was voted through following a fiery debate about the area's controversial parking charges.
The policy and budget strategy group was established to bring councillors of all parties and officers together to review budget allocations as part of efforts to shave millions of pounds from the balance sheet of the under-pressure authority.
In the absence of council leader David Fairweather, the Kirriemuir Conservative spearheaded the shakeup from the chair of the policy and resources committee, of which he is vice-convener.
He said it was wrong for the opposition group to be part of sensitive cross-party discussions and then use the information to form a budget proposal of their own.
A comfortable 9-5 vote for his motion will mean the removal of three opposition members.
The move will leave ruling group councillors Mr Fairweather, Craig Fotheringham, Mark Salmond, Ron Sturrock and Derek Wann on the body, along with Mr Macmillan Douglas.
The deputy leader said: "It is much better to let administration and opposition form two groups with officers to firm up their separate plans.
"It may be slightly inefficient, but a democratic budget vote will then decide the outcome.
"The reality is the opposition excluded themselves here," added Mr Macmillan Douglas.
SNP group leader, Forfar councillor Lynne Devine said: "Team Angus has now clearly gone by the board and people need to realise the administration will always vote en bloc, ensuring nothing the SNP proposes goes through.
"Clearly the administration want to keep things to themselves and that is not the transparency the Accounts Commission or our constituents are looking for, and you may come to regret that," she added.
Carnoustie councillor Mr Boyd did not vote in the matter and said he believed fears he raised following the 2017 council elections had materialised.
"Clearly we are going back to the dark days of us versus them politics, which is very sad for Angus," said Mr Boyd.
"This situation is completely shortsighted and in not what is best for Angus.
"I have always said let's have the right people for the right jobs, pulling together under these financially challenging times.
"Angus deserves better than this."