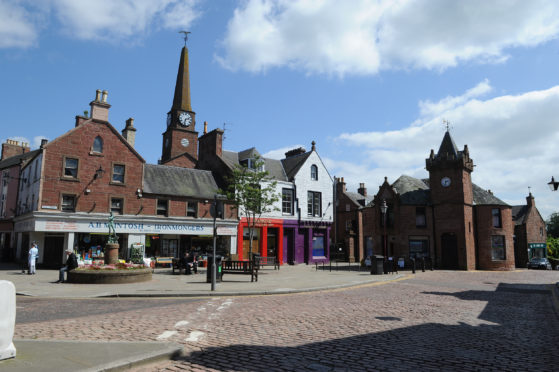 A project designed to "look behind the doors" of an Angus town and put on record its past for future generations is seeking information from members of the community.
With four months to go before its completion, those behind the project, which documents people and trades of Kirriemuir from the 18th century to 1950, have swung into action.
They are busy gathering information from local experts and enthusiasts as well as scouring through old papers, photographs, books and newspaper files.
Work has been on-going behind the scenes for months after the group secured Heritage Lottery Funding.
Researchers want to learn who carried out what trades in which buildings, and seek and share stories about them in a dedicated website, booklet and leaflets.
Contributors already include local historian and author David Orr, members of the Kirriemuir Library Reminiscence Group, staff at the Gateway To The Glens Museum and Bill Murray in Canada who is tracing his many Kirrie ancestors.
The project is organised by Linlithgow-based author and Scottish traditional arts expert Ewan McVicar and noted traditional singer Christine Kydd of Kirriemuir.
Ewan explained they are investigating the work of prolific local author Alan Reid who wrote 'The Regality of Kirriemuir' and other important books about the area.
Reid became secretary of the Rymour Club, an Edinburgh based group which met regularly from 1903 to 1928 to discuss and celebrate the old ballads, children's lore and  traditional culture of Scotland.
The Kirrie team have been collecting old rhymes of Kirriemuir and have visited Northmuir and Southmuir Primary Schools in the town.
Ewan said: "Alan Reid and his wife strove to write down the rhymes of Kirriemuir.
"We went to Northmuir and Southmuir primaries where the children made up new rhymes.
"We secured lottery funding last October and have to have this project finished by September.
"The first part has involved looking at the old rhymes and now we have moved on to researching people's memories.
"The project is hosted by Kirriemuir Connections which works with people with dementia and their carers.
"They have been able to remember things like local rhymes and the shops where they used to buy things."
Anyone interested in taking part in the project is invited to attend an open session on Tuesday in Kirriemuir Library at 11am.
Anyone unable to attend but who is interested in contributing can leave contact details at Kirrie Connections in Bank Street.