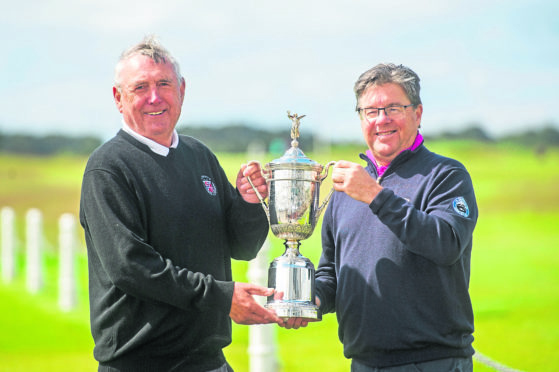 Carnoustie's links to golf's US Open are being celebrated as the sporting event gets under way.
Carnoustie Golf Links and the Carnoustie Golf Club are displaying a replica US Open trophy by the first tee of the Championship course until Sunday.
The trophy – which is the only US Open replica in the UK – is being displayed at the same time as the 119th US Open takes place at Pebble Beach in California.
Carnoustie had a major impact on the development of golf in America.
Around 200 young people, all trained golf club makers, made the voyage to the USA, where many became the greatest golfers of their age and some became the first officials of the PGA.
Kierran Allardice from Carnoustie Golf Links said: "Carnoustie's links to the US Open date back to the 19th century and the Smith family history.
"The trophy is engraved through 1936, to encompass the life of John Smith and his sons in the US Open.
"Undoubtedly Carnoustie's greatest playing exports were the Smith brothers, who between them won three US Open titles and still today remain the only brothers to have both won at least one US Open title.
"The youngest Smith sibling, Macdonald, was arguably the most talented player of the brothers claiming 29 professional victories, 18 more than his brothers' total combined.
"However, these victories did not include a US Open, although he did finish within three shots of the winning score on five occasions and tied for the lead in 1910 before losing to his older brother Alex in a play-off.
"While the Smith brothers were the first key immigrants to the United States from Carnoustie in the early 20th century, there were several hundred young men who emigrated from Carnoustie, taking their excellent club making skills and abundance of golfing talent with them."
Willie and Alex won three US Opens between them.
In 1899, the former became the first to win America's national title, when he emerged victorious at Baltimore GC.
His total of 315 (77, 82, 79, 77) gave Willie an 11-shot winning margin, a margin not surpassed until Tiger Woods won by 15 shots at Pebble Beach in 2000.
Seven years later, in 1906, Willie finished second at the US Open at Onwentsia but, on that occasion, his disappointment was tempered by the fact that it was his brother, Alex, who beat him.
That year, Alex recorded rounds of 73, 74, 73 and 75 to win by seven shots and become the first man to post an aggregate of under 300.
In 1910, he was to win again at the Philadelphia Cricket Club, this time after an 18-hole play-off against Johnny McDermott and his brother, Macdonald.
The US Open replica trophy itself resides at Carnoustie Golf Club for six months of the year and spends the other six months at the adopted American home of the Smith family, Diablo Country Club in California.