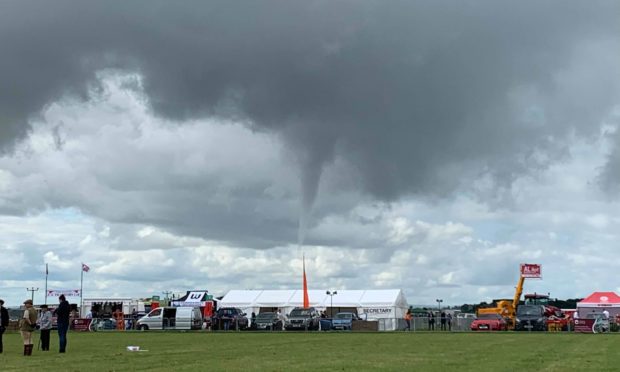 Angus is fast laying claim to becoming Courier Country's tornado alley after another spectacular weekend waterspout sighting near Kirriemuir.
Just a couple of months after a hillwalker spotted a rare twin tornado in the glens north of the town, Saturday's changeable weather created ideal conditions for the latest twister, which was visible across a wide area, including the Kirrie showground as visitors dodged the heavy showers.
Kenna Kerr was watching the horse driving class at the show when the waterspout appeared just after 1pm.
Blue skies which had been over parts of the area darkened and the waterspout dropped from the heavy clouds, appearing on one of Kenna's photographs to be homing in on the secretary's tent at the popular annual event.
Sandie Davidson also clocked the weather phenomenon around 1pm from her home at Hill of Baldowrie, near Newtyle, and another clear shot of the vortex over Westmuir was captured by Bruce Reid.
The storm images were widely shared after being posted on the Oor Kirrie Facebook page.
In May, Dundee hillwalker Dave Barrett captured the rare phenomenon of a twin twister while walking up Cat Law, north of Lintrathen.
As the area was hit by thundery showers, the two funnels developed close to each other in the area of Glen Quahrity, a few miles from where Dave was walking but clearly visible from his elevated position.
A funnel cloud becomes classed as a tornado when the fast-spinning vortex touches the ground.
Around 30 tornadoes a year are reported in the UK and although most are short-lived and relatively small, some have the power to cause property damage if they hit built up areas.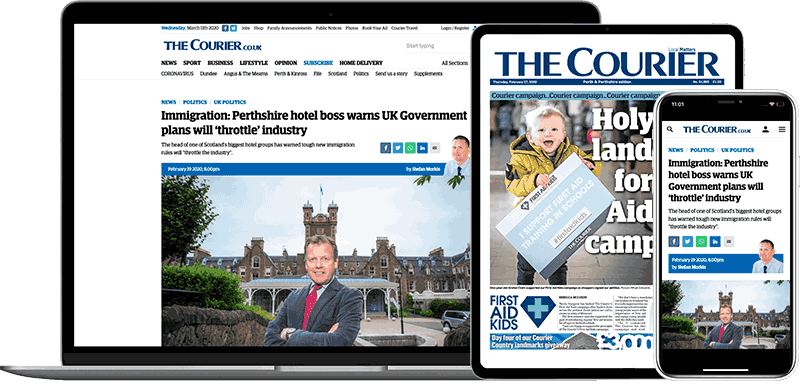 Help support quality local journalism … become a digital subscriber to The Courier
For as little as £5.99 a month you can access all of our content, including Premium articles.
Subscribe