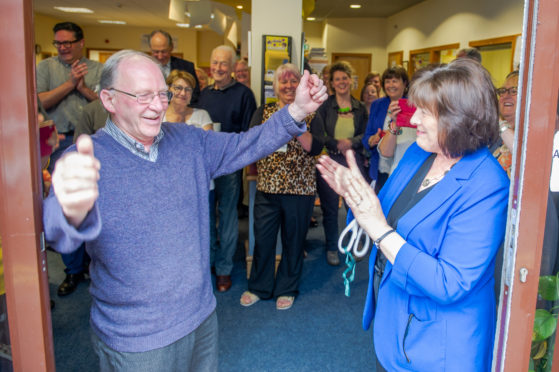 Angus has been hailed for the pioneering role Kirriemuir is playing in the roll-out of an international project that helps people and their families live with dementia in the local community.
The Kirrie Connections team welcomed Scottish health secretary Jeane Freeman to their Bank Street premises for the official opening of Scotland's first Meeting Centre.
The occasion marked the expansion of a two decade-long European success story.
The Meeting Centre is a social club where people living with dementia and their family carers can gather to have fun, make friendships and get help tailored to their individual needs.
Centres are based on evidence from research into methods that help people adjust to living with the symptoms and the changes dementia brings.
Kirrie Connections manager, Graham Galloway said "Meeting Centres are a well-established model in the Netherlands, and they are now starting to pop up all over the world.
"We are very excited to be the first Scottish Meeting Centre, and hope we will be the first of many".
Kirrie Connections has been working closely with academic partners from the University of Worcester, who were involved in a Europe-wide study of the centres.
The university is currently overseeing a UK-wide introduction of the model.
Professor Dawn Brooker, director of the Association for Dementia Studies at the university, said: "Today marks a milestone in the story of Meeting Centres across Europe.
"Our research to date demonstrates clear benefits to people living with dementia, their families and their communities.
"Having a Meeting Centre in Kirriemuir will undoubtedly benefit that community.
"More than this, however, it also provides community groups across Scotland with a great example of what can be achieved."
Ms Freeman said: "I am delighted to open this dementia meeting centre at Kirrie Connections and to see first-hand the benefits it will bring to many.
"We continue to take national action to support people with dementia and their families and carers.
"Through our National Dementia Strategy, the new rights under the Carers Act for carers to access the support they need, and through the implementation of Self Directed Support, we will ensure people across Scotland get the help they need."
Frank's Law campaigner Amanda Kopel, who lives in Kirrie, was among those who attended Thursday's official opening event.
The Kirrie Connections Meeting Centre is open Tuesday, Wednesday and Thursday each week.
There are an estimated 93,282 people living with dementia in Scotland, with the figure forecast to rise to more than 160,000 by 2036.