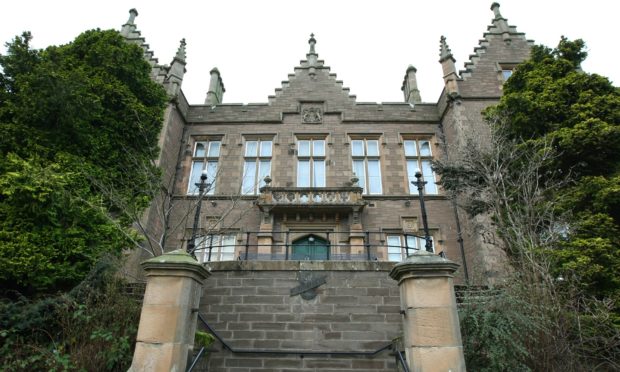 A hit-and-run Angus driver so boozed up police struggled to wake him  when they went to question him has been put banned from the road.
Matthew Bruce hit a Mercedes outside an Arbroath pool and snooker hall, but left tell-tale bits of broken tail light glass which officers fitted like a jigsaw piece into the rear of his vehicle when they arrived at his home.
But the 30-year-old was so inebriated he was unable to hold down a conversation with them when asked about the crash.
Bruce, of Gedy Place, Arbroath appeared before Sheriff Jillian-Martin Brown at Forfar Sheriff Court where he pled guilty to colliding with a car and failing to stop on July 18 in Arbroath, and driving with a breath alcohol limit of 97 microgrammes – the legal limit is 22.
Depute fiscal Jill Drummond said the owner of the Mercedes parked his car at the rear of the Shotz premises around 7pm and went inside, where the accused was one of just a few people inside.
Bruce and a friend left some time later and a witness in the car park saw the accused get into a car, reverse and then heard a loud bang as he hit the Mercedes and drove off.
Police arrived at the bar around 10.15pm and saw damage to the bumper and grille of the vehicle, with a blue paint mark on it, the court was told.
Glass was also found beside the vehicle and, when they established Bruce lived nearby, went to his home where they found his car with damage to the rear and the broken back light which the pieces matched.
"The accused was in the living room. He was heavily intoxicated and numerous attempts were made to revive him, which went on for several minutes before he awoke," the fiscal said.
"He was slurring his words and unable to maintain a conversation with officers."
When arrested and taken to Arbroath police office, Bruce gave a reading of 97mics.
Sheriff Martin-Brown told the accused that because of the high level she would call for a social work report before sentencing him.
Bruce was disqualified from driving ad interim, with the length of the ban to be set when he returns to court on September 12.