Terrified residents were evacuated from a burning tenement block in Forfar on Friday morning after a fire broke out.
Emergency services rushed to the scene in Lordburn Place after reports of people trapped in the four-storey building.
Video of the aftermath is above this article, with pictures below.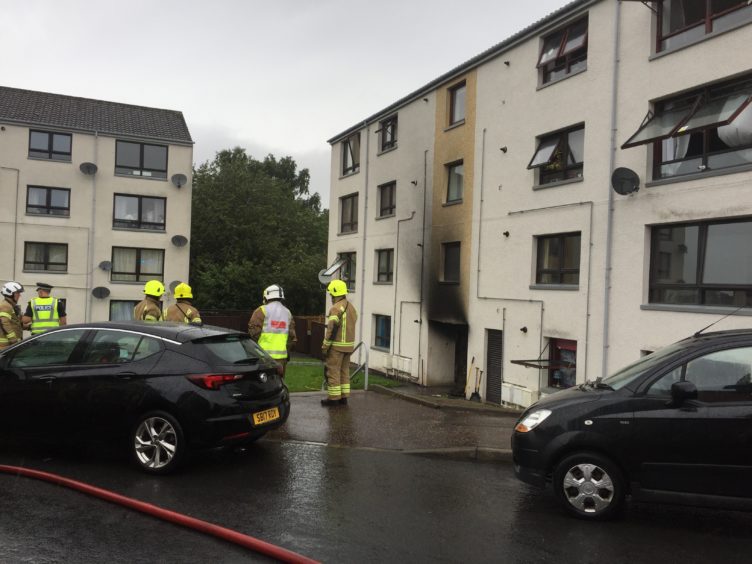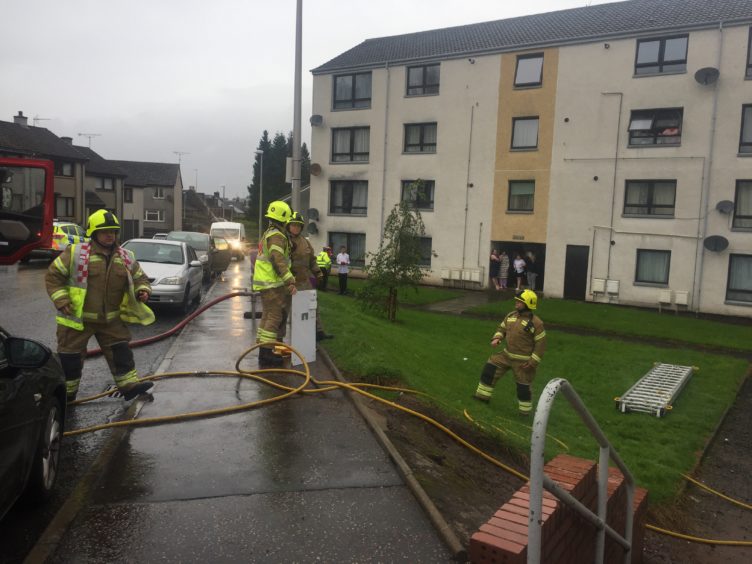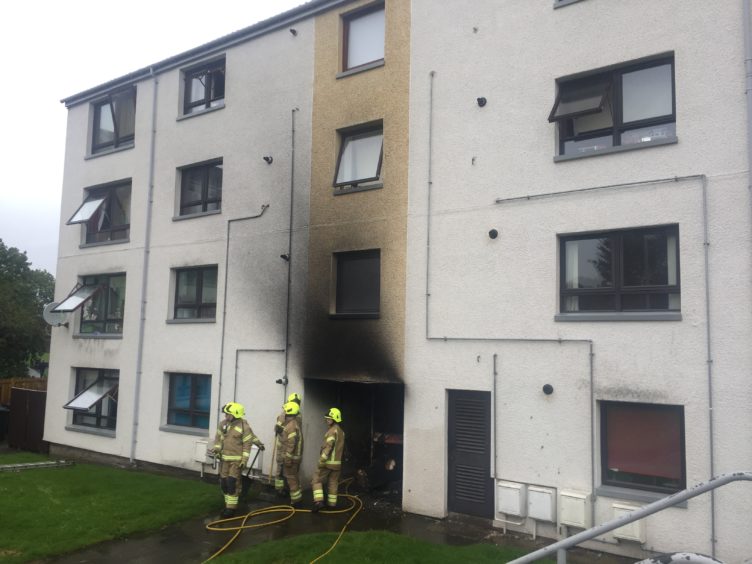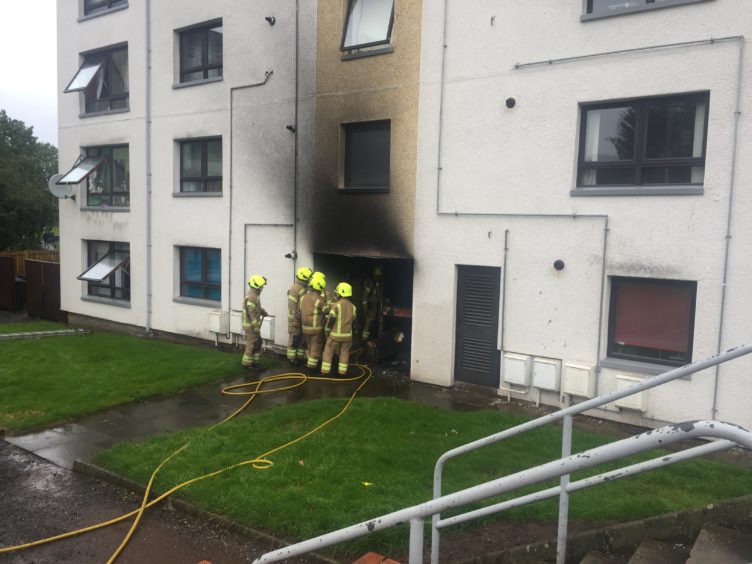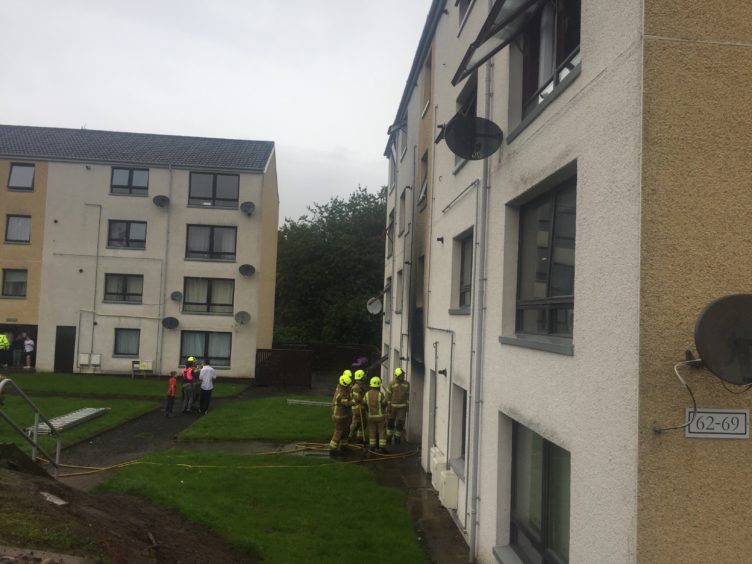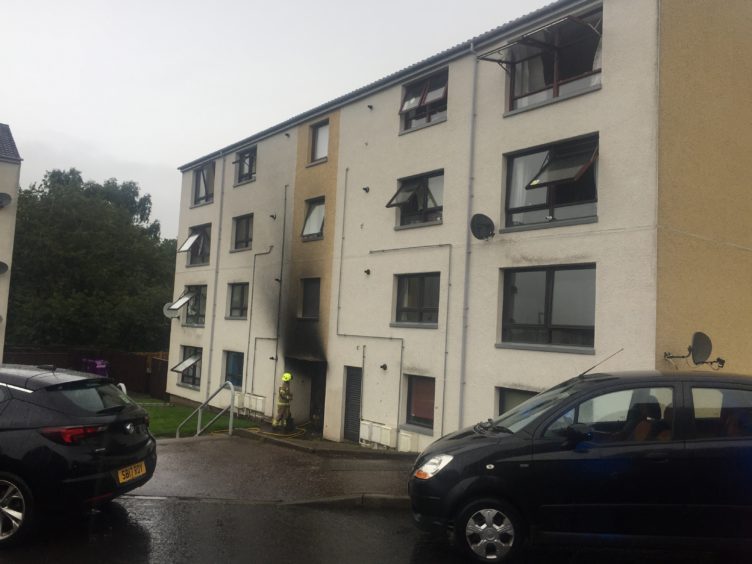 Frantic neighbours were forced back by flames and smoke in the stairwell, with one climbing on the ledge of a first floor window to help rescue one women, three children and a dog from a first floor flat.
Among the first on the scene was Timur Kharison, 38, whose house looks onto the building.
He was met with flames and acrid smoke pouring from the entrance.
He said: "Our friend lives in a first floor flat.
"It was about 7.30am and I could hear screaming from people at the windows.
"I tried to get in the door but there were flames and smoke – it was completely black.
"I stood on the windowsill and helped her out, along with three children and a dog.
"People were screaming, people were climbing out of the windows.
"There was a two section ladder nearby but it was padlocked, as I was trying to get up to help people.
"Another two guys were also helping."
John Muir, 52, who lives with his wife Sonia, 61, in a ground-floor flat in the burning block, woke at 7am after hearing a loud bang.
He looked through the peep-hole of his door and saw an "orange glow".
He said: "I went into the hallway, looked out and heard shouting.
"I couldn't get out the door so climbed out of the window.
"I heard one woman trapped on the top floor shouting she didn't want to die.
"I phoned for the fire brigade and I helped my wife out of the window.
"There are eight flats in the block, six of them occupied.
"I don't know how the fire started but there have been chairs and plastic bags piled up in the stairwell."
Ambulance crews were also on the scene to treat residents rescued by the fire crews from Forfar and Kirriemuir, as shocked residents, many still in their nightwear, looked on.
A police statement said: "Police Scotland attended in Lordburn Place, Forfar, with other emergency services about 7.30am in response to a reported fire in a close.
"The fire was extinguished by SFRS and one 14-year-old girl was taken to hospital for treatment for smoke inhalation, although her condition is not serious.
"Enquiries into the circumstances are at an early stage."
A Scottish Fire and Rescue Service spokesman said: "We were alerted at 7.33am on Friday, August 16 to reports of a fire at a block of flats in Forfar.
"Operations Control mobilised four fire engines to the town's Lordburn Place, where firefighters were met by a fire at the building's entrance.
"Crews extinguished the fire before leaving the scene.
"There were no casualties."