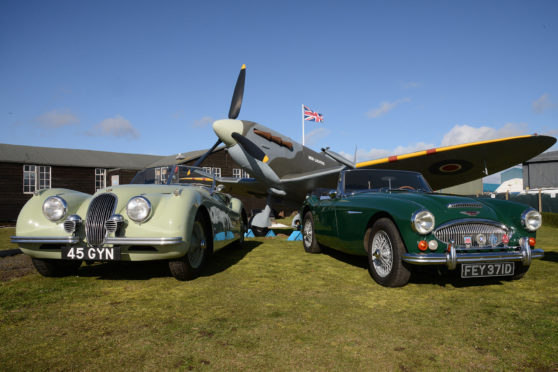 Past glories of wartime ace pilots were recreated during a high-flying Angus event at the weekend.
Vintage warbirds and classic cars were on display at the family open weekend at Montrose Air Station and Heritage Centre.
Part of the centre's Battle of Britain commemorations was a "squadron scramble", re-enacting the role of the Second World War pilots who ran to their Spitfire aircraft when the alarm bell was rung.
RAF Montrose was reopened in 1936 as No8 Flying Training School and many pilots who trained at the airfield fought in the Battle of Britain.
Between 1936 and the end of the battle an estimated 800 pilots trained and got their "wings" at Montrose, though not all became fighter pilots.
Two aircraft from the First World War were on display, including a BE2. Visitors also got to see a Gloster Meteor and a de-Havilland Vampire and two Second World War aircraft in the workshops under restoration.
The recently completed Sopwith Camel rebuild was also on display. The replica has become a memorial to the brave men who flew the aircraft, including Captain John Todd, who was known as the Scottish  Camel Ace
A light aircraft fly-in at Broomfield Playing Fields took place, with aircraft attending from all over Scotland.
Montrose Rotary Club organised the classic car element of the event and Hollywood actor Richard Burton's 1953 two-seater Jaguar was part of the display.
The sleek Jaguar XK120 which once carried the movie legend around the alpine roads near his Swiss home made the short trip from owner David Barnett's base at Classic Autosport in Inverkeilor.
Donald Hitchen, Montrose Rotary Club president elect, said Angus Carers and Scottish Air Ambulance would be the beneficiaries of money raised during the weekend through donations and a collection.
He said: "Rotary are always seeking ways of fun fundraising for communities and good causes and this offers an exciting weekend to bring enjoyment with free entry for families.
"The event adds another dimension to the already very successful fly-in weekend by combining aircraft and classic cars – what could be better?
"We have reintroduced this event featuring rare vehicles including a very rare Bugatti and also a Jaguar XK120 previously belonging to Richard Burton when he resided in Switzerland."
Mr Hitchen said it was hoped the event would be expanded next year following the weekend success.