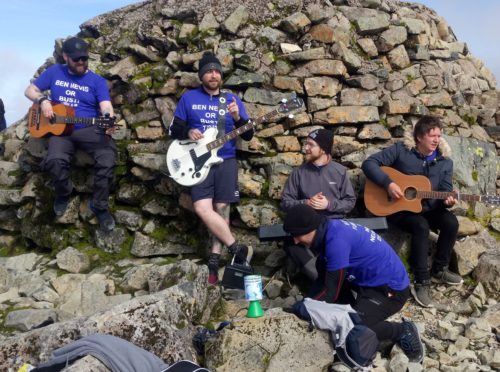 An Angus family can now plan a trip of a lifetime to Disney World in Florida to make precious memories with their terminally ill son thanks to the incredible support of their local community.
On a weekend that saw Tayside rock band Emerald Sunday scale Britain's highest mountain to perform a unique gig on the summit of Ben Nevis, raising over £2,000, Bruce and Helen Stott of Delson Contracts Ltd. donated £6,000 to enable Claire and Ricky Davidson of Kirriemuir fly out to the sunshine state with their three children at Easter.
The couple's world fell apart in May when their four-year-old son Leo was diagnosed as one of only 150 in the world with the rare life-limiting genetic condition infantile neuroaxonal dystrophy.
He has a life expectancy of between five and 10 years after inheriting the condition from both parents who are carriers of the gene in a one-in-a-million chance.
They set up a JustGiving page to fund special memories with Leo, 10-year-old Taylor and one-year-old Pyper-Rose, which has raised £4,250.
On Saturday Emerald Sunday set off with a group of determined walkers, including Ricky, at 7.30am with the first reaching the summit at 11.15am.
Guitarist Alan Hunter said: "It was a very emotional day.
"Ricky showed unbelievable courage and determination as he was carrying a knee injury.
"He made it despite being in pain and was given a hero's welcome as he approached the top.
"It was a fantastic day, one we'll never forget.
"A guitar used on the day, signed by the band and everyone who joined us, is up for auction on September 21 at a charity gig at the Gairie Inn in Kirriemuir."
Harlem Green live from the summit of Ben Nevis…..what an experience ?Go fund still open peeps https://www.gofundme.com/f/emerald-sunday-live-from-the-peak-of-ben-nevis?teamInvite=KwQ807Rmlc2tzi8bixceKzNnQRkB2W0y646HmJAVqe7HogcRZtHuWcVT6gTeGKXm&fbclid=IwAR0V6Lo2RiSMBy-7xqZFLunCI6nqz-m4QkRhgaY8XIC-hYbbGOag9I3bFu8

Posted by Emerald Sunday on Sunday, 8 September 2019
Helen Stott said: "When we heard what the family was going through we felt we had to do something to help.
"Hopefully they will be able to book the trip soon to make special memories.
"There are other fund-raisers going on in the town which will help them buy the much-needed equipment they need for Leo."
Claire, 26, said the family was overwhelmed by the support and is now hoping to book their once-in-a-lifetime visit to the Disney World Resort.
"We have to do it properly through a travel agent as we need disabled access.
"The whole thing is amazing but sad it has come to this."
The additional funds raised will help purchase a special bed and chair for Leo, priced at £2,000 and £1,000 respectively.
Claire continued: "It is all about making Leo's life comfy and happy.
"It has been absolutely crazy, we never expected our wee town to get behind us like this.
"J & D Wilkie have also matched £870 raised by staff at the factory, making £1,740.
"We are so grateful for everything and  are just trying to enjoy our time with Leo."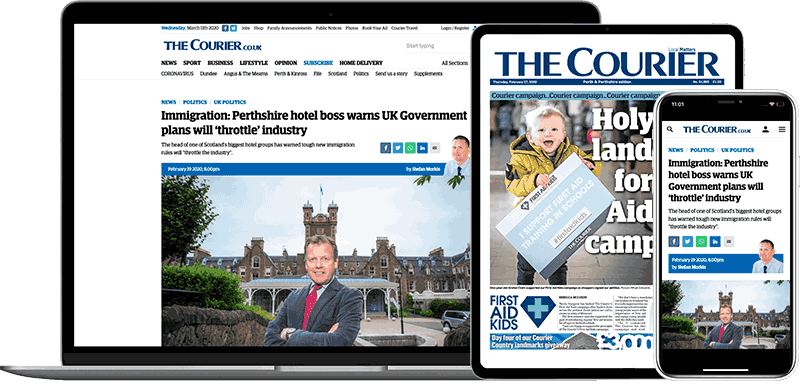 Help support quality local journalism … become a digital subscriber to The Courier
For as little as £5.99 a month you can access all of our content, including Premium articles.
Subscribe