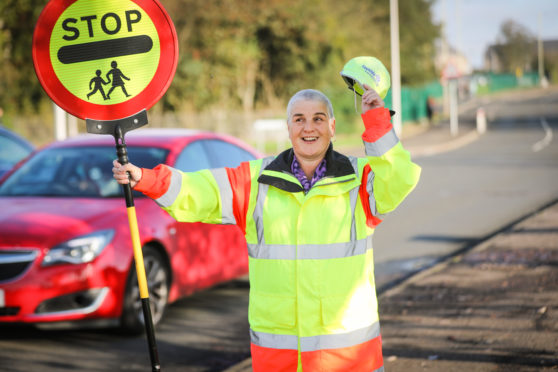 An Angus lollipop lady has "braved the shave" to support the valuable work and support offered to those battling cancer.
Shirley Sharp, 55, from Arbroath, lost a close friend to the illness earlier this year, but wanted to do something to repay the help they both received at the Macmillan Day Care Unit at Arbroath Infirmary.
She signed up for Macmillan's 'Brave the Shave' to have her head shaved in the hope of initially raising £200 to help towards the charity's running costs.
She has been overwhelmed with the support she received, which more than trebled her target, raising £638.
Shirley, 55, is employed by Tayside Contracts and is a well-known figure at the Mayfield shops' junction of St Ninians Road and Linton road, crossing pupils from Hayshead and St Thomas primary schools, as well as adults.
She had her hair shaved off in memory of her childhood friend, Doug Murray, who died in April aged 68.
She said: "I had known Doug for much of my life.
"He was a hard worker and would help anyone needing a hand. He worked with Reekies where he served his apprenticeship and McIntosh of Friockheim.
"He also worked weekends at the Craigton Coach Inn. He became a lorry driver with Low and Duff, which then became Ladco.
"In August 2018 he found out he had a tumour.
"We were made welcome at the Macmillan group sessions in Arbroath Infirmary. They helped to explain and make us more at ease with things by answering questions and listening to questions we both had and fears that could follow.
"The Macmillan groups have also been such a help for myself to help me understand.
"Now Doug has passed, doing my sponsor shave is my way of thanking everyone for their support.
"In the end I sent off £638 to Macmillan Cancer Support."
Shirley and Doug attended the Arbroath unit, which provides community palliative care and day treatment facilities through a partnership between Macmillan Cancer Support and NHS Tayside, every week after Doug was diagnosed with stage four cancer.
The former Inchcape Ward at the infirmary now provides  a day care assessment and treatment facility, allowing people to receive much needed treatment locally.
Shirley said: "Doug had chemo and sailed through that and enjoyed life as before.
"People forget all the extra things you receive when you are going through treatment all cost money.
"As well as the treatment there are information books, lunches, coffee and cakes.
"The day centre also has volunteers who do massage therapy, exercises, games, all for free.
"A little help goes a long way."