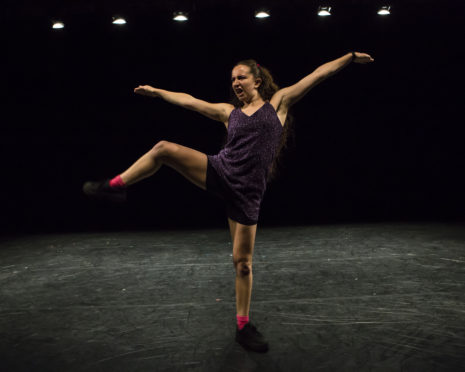 An Tayside dancer's personal take on life as a 25-year-old Scottish woman is to feature prominently at a major north-east contemporary dance festival.
Charlotte Mclean was inspired to take up dance as a profession after seeing a performance by the Scottish Dance Theatre in Dundee.
After taking lessons she went on to study in London and has been dancing her way around the world ever since.
As a professional performer Charlotte is now artist in residence at Citymoves, the Aberdeen dance agency behind Dancelive.
The 25-year-old, who hails from Arbroath, will give a solo performance of her life's journey at this month's festival.
She created her work 'And' three years ago but has given it fresh relevance, reflecting on how she feels about the world now.
Charlotte had no experience of contemporary dance until seeing a performance by the Scottish Dance Theatre.
After attending evening classes run by the company, she went to London Contemporary Dance School, graduating with a first class honours degree.
After the Dancelive festival, which runs from October 17 to 20, she will return to London and Switzerland where she is involved in freelance dance projects.
Charlotte said: "People may be unsure of what contemporary dance is, but this festival makes it all really accessible.
"I'm really looking forward to being part of it, both participating and watching the other shows."
Charlotte has toured Poland, Switzerland and Greece.
Spending much of her professional life in London or overseas means she cherishes the opportunity to return to Scotland.
Charlotte said 'And' is  "about being 25 years old in 2019 and being a Scottish woman.
"No matter what age you are you still worry about little things or big things, silly or important. I think most people can relate to that."
Charlotte performs 'And' as part of Artists' Mixed Bill on October 19 at the Triple Kirks at Schoolhill.
It is one of 18 events at five different venues that make up the four day Dancelive programme.
As well as performing in the Mixed Bill, she is looking forward to seeing the youth showcase on October 20.
She added: "I've been working with some of them teaching Higher dance, and they are really passionate about dance, so I see a lot of myself in them."
For more information and tickets see https://www.citymoves.org.uk/dancelive/