Michael Alexander speaks to management and trade unions about their hopes for the future on the first anniversary of Dundee Michelin's closure announcement.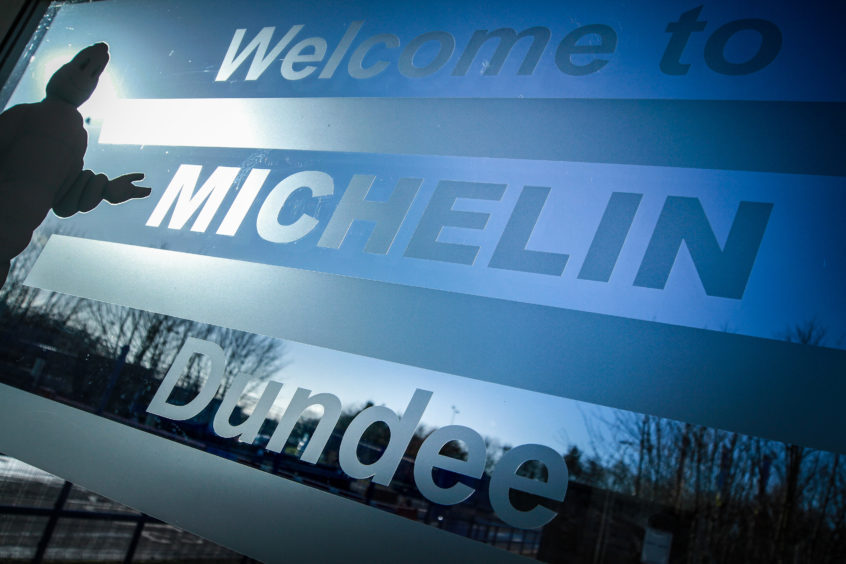 On the morning of Tuesday November 6, 2018, heart-broken Michelin Dundee workers were left in tears at the factory gate after a 10-minute briefing confirmed they would be losing their jobs by 2020.
The French company confirmed its Baldovie factory was closing because of a decline in the market for its tyres, despite £60 million of investment in recent years.
The formal announcement to staff came 46 years to the day since the first tyre rolled off the Baldovie production line with the planned closure described as a devastating blow for the city.
Workers, including many whose families had worked there for generations, spoke of their shock at the news.
But when Marc Jackson, senior shop steward for trade union Unite thinks back to the events of a year ago, he says the "knife was put through our hearts" the night before when news leaked out via social media more than 12 hours ahead of staff being formally told.
"I don't know who leaked it," said Mr Jackson, 51, who will have worked at Michelin Dundee for a day short of 32 years when tyre production ceases at the end of June next year.
"All I know is that on November 5 I had a lot of worried friends and members getting in touch to ask if it was true."
Mr Jackson said staff were understandably shocked and upset when news was confirmed.
However, with Unite representing 98% of the 846-strong workforce at the time of the closure announcement, he is full of praise for the way Michelin has handled the redundancy process and how everyone including Dundee City Council and the Scottish Government has pulled together to try and find a viable, attractive, alternative future for the site. While there's still much work to be done, he thinks good progress is being made.
"I think Michelin has done the right thing by the people on the site," he said.
"We said in the beginning Michelin has a social responsibility to every single person on that site and I think we are matching it.
"I'm proud of how Michelin has treated us since that. I think Michelin have been very good with us compared with other companies. They could have walked away. They didn't. The money they have spent trying to get people new jobs has been great.
"But I am also very proud of my members and the people on the Dundee site. There's a lot of people going through a lot of difficulties here coming to terms with the fact Michelin is shutting and they won't earn that money.
"The way people are pulling together and continuing to work to a high standard has been just amazing. To be fair the next eight months will be even more difficult. But I'm so proud of people in this factory how they've conducted themselves."
Mr Jackson said Unite backed efforts to re-purpose the 32-hectare site and to attract good, well-paying jobs and cutting edge technologies to Dundee.
Scottish Enterprise and Dundee City Council, along with Michelin, have entered into a partnership to turn the site into a world-class innovation hub in a bid to replace the 850 jobs lost with the end of tyre production.
They are equal partners in the newly formed Michelin-Scotland Innovation Parc (MSIP) that aims to focus on sustainable transport and low carbon energy.
Michelin Dundee general manager John Reid, who was appointed chief executive of MSIP in July, said the events of a year ago were a "very traumatic experience" for everyone including himself who has worked at the plant since 1992.
The priority since, however, has been supporting employees and their families with 95% of the workforce having engaged in reskilling and employability programmes.
Of the 846 staff on the books in January, 414 have already found their next jobs with 358 having already left the site – a trend quicker than anticipated.
"I think the calibre of the workforce in the first instance and the experience that they've all gained through working in a challenging blue chip, high volume, lean manufacturing environment has made them very marketable to other organisations," he said.
"What's been crucial right from the start of the process is that Michelin agreed to make it a 'social ramp-down' over 20-months so as and when people secure new jobs, they can leave when it suits them rather than the business. This means production can be wound down in line with staff available. The employability programme will also be in place all the way to June 2021 meaning that support will continue for a full year after we stop making tyres."
Mr Reid said that as CEO of MSIP, they had a 10-year plan to put 850 jobs back into the site through a mixture of advance manufacturing, innovation, skills, and new initiatives.
To date, there are around 20 "real prospects" on the list with "half a dozen priority projects" being worked on in detail.
Undoubtedly it will be a "massive emotional moment" when the doors finally close next year.
But Mr Reid added: "It's the closing of one door and the opening of another really. The challenge for us on the site is to try and help our people understand it's not the end of the world.
"There are opportunities for people out there. We just need to help them find them and get to them and so that the work we've done over 48 years has not been wasted.
"If we hadn't secured all the investment we secured in the last five years then this site wouldn't be such an interesting prospect for other companies."
Steve Dunlop, Chief Executive, Scottish Enterprise, said: "When news of the Michelin closure broke, it was understandably a great blow to the workforce but also to the wider community of Dundee.
"The Michelin Dundee Action Group was formed and our immediate focus had to be support for those facing redundancy, but also looking at the future of the site.
"Diversification is key to sustainability and there was a real appetite to grasp the climate opportunity. We're optimistic that Michelin-Scotland Innovation Parc will further accelerate Scotland's low carbon journey.
"The aim is for the site become a world-leading facility for developing sustainable mobility and low-carbon energy, building on the talents and manufacturing excellence in Dundee.
"The commitment to the site from all the partners will create a long-term, sustainable future for the Baldovie plant that creates jobs and opportunities for the local economy, as well as addressing the challenges posed by the global climate crisis."