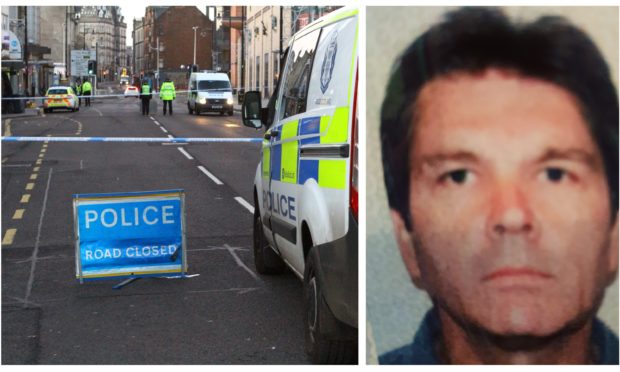 A man accused of killing a 62-year-old in a scuffle at a Dundee taxi rank "did not have evil in his heart" when he punched him in self-defence, a court has heard.
Wes Reid, 20, is accused of throwing a single punch at Brian Fox, which caused him to fall to the ground, striking his head and killing him, in the early hours of January 1 2019 at the Nethergate.
In his closing statement on the sixth day of his trial for culpable homicide at the High Court in Edinburgh, Donald Findlay QC, defending Reid, described the incident as a "tragedy".
He replayed enhanced CCTV footage that had been shown to the jury previously, revealing the moment Mr Fox was hit and fell to the ground.
Mr Findlay said the clip showed Reid "tentatively" walking towards the fracas and claimed he was "given a fright" and punched Mr Fox when he approached him from behind with his arm outstretched.
He said: "In my over 40 years of involvement in cases in the High Courts, there have been many of extreme violence. But there are a small group of cases that are particularly tragic and this case falls in to that group.
"It's particularly tragic because Mr Fox should not have died. He was not meant to die. Mr Reid had no malice towards him. They didn't know each other."
He added: "There is no evidence this young man had evil in his heart and if he didn't then it's not culpable homicide. This is someone who gets a fright.
"We can't take away the pain Brian Fox's family feel but this is a young man who has never been in trouble before in his life. Two wrongs don't make a right.
"You're being asked to convict him of killing another human being."
Reid's friend, Adam Valentine, 25, is also on trial accused of endangering 64-year-old Sandra Baird's life by pushing her to the ground during the same incident.
On Wednesday, Valentine pled guilty to assaulting Mr Fox by punching him on the body while he lay unconscious on the road after being punched by Reid.
A charge of culpable homicide, which he had denied, was withdrawn by prosecutors.
In his closing remarks defending Valentine, Mark Stewart QC put it to the jury that he did not deliberately push Ms Baird and that it did not constitute an assault.
He said: "To put it at its most modest, this was a collision.
"If you think that 'maybe' Mr Valentine pushed her, well maybe is not enough, and if you think he 'probably' pushed her, then that is not enough.
"The Crown is required to prove this case beyond probability."
He added: "It is not analogous with the death of Mr Fox. It's a totally different set of circumstances."
Valentine had also faced a number of charges of assault but these were withdrawn by prosecutors during the trial, which is being presided over by Lord Beckett.
The jury, made up of eight women and seven men, retired to deliberate on Thursday afternoon ahead of reaching a verdict on both accused.