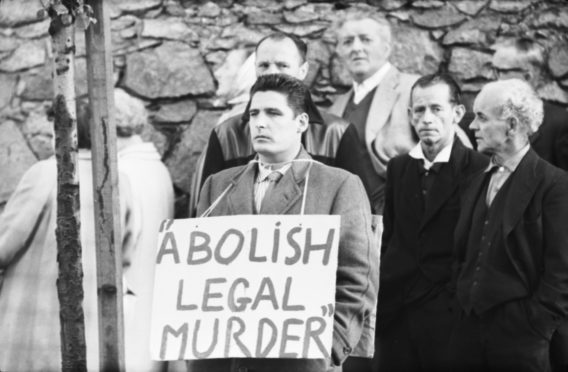 Five decades ago today a Tayside politician brought Old Firm giants Rangers and Celtic into a fight to stop the death penalty being scrapped.
Dundee West Labour MP Peter Doig was accused of suggesting capital punishment would "prevent punch-ups at football matches" during the lengthy vote to end hanging in Britain.
The seven-and-a-half-hour debate in the House of Commons is being remembered exactly 50 years to the day since MPs voted by 343 to 185 to support abolition.
Between 1800 and 1868 a total of 273 people were hanged in Scotland but, by the end of that century, executions took place behind prison walls.
Of these executions, five took place in Dundee in public, and one, the last to be performed in the city, was carried out in private in 1889.
The 20th century saw 34 people hanged across the country, all for the crime of murder.
The last man hanged in Scotland was Henry John Burnett, who was sentenced to death by the High Court in Aberdeen for the murder of merchant seaman Thomas Guyanat and was executed in 1963 at HM Prison in Aberdeen, aged 21.
Hanging was suspended for an experimental period of five years under the terms of the Murder (Abolition of Death Penalty) Act 1965 before the Home Secretary, James Callaghan, proposed a motion to make it permanent.
Mr Doig told the historic debate: "Is there not a price that we should be prepared to pay to preserve our individual freedom?
"This is what is now in danger.
"A spectacle that has now become a bit of a joke is the match between Rangers and Celtic in Glasgow.
"But it is not a joke.
"It is a serious business.
"People are injured at almost every match played between these teams.
"People who genuinely want to see the football match are deterred from going because of the danger involved in attending.
"It is next to committing suicide if somebody standing at the Celtic end of the ground advertises the fact that he supports the Rangers, and the same applies in reverse."
Mr Doig's passionate belief in capital punishment was just one of the issues which led him into a collision course with the increasingly left-wing labour movement in Dundee.
Bradford Labour MP Edward Lyons asked: "Is my Honourable Friend suggesting that bringing back the death penalty will prevent punch-ups at football matches?"
"I am suggesting that people should be prepared to preserve individual freedom and to pay the price, just as apparently people are prepared to pay a price to preserve national or international freedom," Mr Doig replied.
"I am giving some ​examples of how the freedom of the individual is being eroded often through fear and lack of respect for the law."
Mr Doig, a former bakery van man, saw himself very much as a man of the people and thought of himself as a person the voters could see as their friend.
During his first parliamentary election campaign many of his meetings held in pensioners clubs, and even at public meetings, would begin with a sing-song, with tunes specially written for the occasion by his election agent.
Peter Doig
Mr Doig was born in the Fife village of Lochgelly in 1911, the fifth child in a family of six.
He moved to Dundee at the age of five after his father, a Dundonian, decided he did not want his four sons to follow him in working as a miner.
In 1947 he was put forward as the Labour candidate in Broughty Ferry, the first time he had stood for Dundee Town Council, although he was beaten in the election by Moderate James Gillies.
After another unsuccessful attempt five years later, Mr Doig was finally elected to the council in 1953, representing the west end, the only Labour gain in Dundee that year.
He was made parks convener the following year, and later became transport convener and then city treasurer, a post he held for three years.
Following a successful local government career Mr Doig became MP for Dundee West in a by-election in 1963 brought about by the death of Mr John Strachey.
Mr Doig was also involved in a number of controversies, in particular his support of capital punishment, before standing down as MP at the 1979 General Election.
Two years later he sprang a surprise by joining the newly-formed Social Democratic Party, disillusioned by the direction being taken by the Labour Party, which he had joined at the age of 17.
Mr Doig, who had lived in Wormit since 1964, died in 1996.