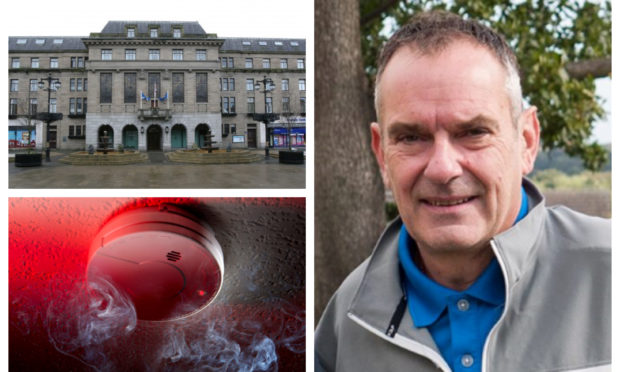 A Dundee council employee who quit in September after being accused of stealing authority-owned smoke alarms and selling them for a five-figure profit has still not been questioned by police, it can be revealed.
Electrical supervisor Iain Gardyne, who can be named today for the first time, resigned from his role after bosses were tipped off to council-owned smoke alarms being sold on the online auction site eBay.
It is understood Mr Gardyne, when questioned by bosses, claimed the devices were secondhand and taken from residents' homes as they were replaced by newer models, despite some devices appearing to have been advertised with a shelf life until 2029.
He has since gone on to set up his own business, I.G Electrical, carrying out domestic, commercial and industrial work around Dundee and Angus.
Despite handing in his notice four months ago, The Courier can reveal Mr Gardyne has never been been spoken to by police in any capacity about the smoke alarms and no one has been arrested or charged.
Dundee City Council's scrutiny committee convener Kevin Keenan met with chief executive David Martin on November 27 and said he was told the devices were sold for around £10,000.
Mr Keenan is calling for further answers and believes the lack of information provided by the council has made proper scrutiny impossible.
He said: "I'm asking what did the stuff cost us to buy in the first place and what was the range of materials being sold? David Martin couldn't answer that.
"Those are the kinds of issues in terms of scrutiny that we need to know. I raised the question in the first place because the public needs to know what is going on."
The Construction Services department where Mr Gardyne was employed has been at the centre of a major corporate fraud investigation after a contract to provide heat and smoke and carbon monoxide detectors was awarded without ever going out to tender.
Two senior staff members in the department attended a "customer event" in Spain arranged by the firm awarded the deal, Edmundson Electrical, although it is has been claimed both paid their own way for the trip.
Mr Keenan first raised concerns about the department in May after being alerted by members of the public, and said some individuals he "would have expected to have been disciplined" remain on the council payroll.
He said: "When I asked questions about this, I got a response from David Martin that the case is ongoing, that police have been involved and are being kept informed.
"Given this has all been going on since May, it's really frustrating. If it's the case that employees have been hung out to dry, then this should not be going on for nine months. There needs to be a fairness to employees, as well as everyone."
Police Scotland refused to comment on why Mr Gardyne had not yet been questioned about the alarms, stating only that "inquires are ongoing".
A Dundee City Council spokesman said: "Senior elected members have been kept updated by officers and a comprehensive report on the issue will be submitted to all councillors as soon as possible.
"The matter has been referred to Police Scotland. It would not be appropriate to comment on any personnel matter or ongoing investigation."
Mr Gardyne declined to comment.