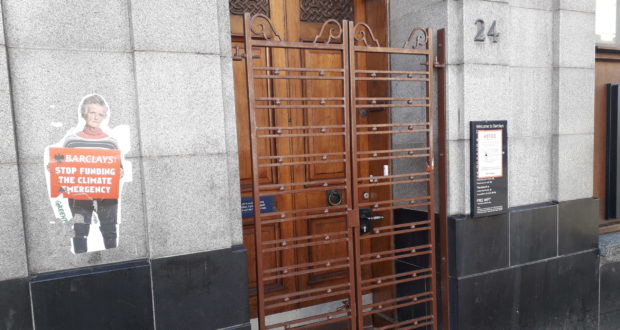 Barclays branches across Courier country were shut down by Greenpeace activists on Monday.
The campaign which has forced the closures of branches in Dundee, Perth, Dunfermline and St Andrews as part of a fossil fuel funding protest at 100 branches across the UK.
Campaigners are demanding the banking giant — the largest fossil fuel financer in Europe — stops "propping up" oil, gas and coal firms, and instead channels funding into renewable energy.
In Dundee the activists disabled the branches' lock mechanism which meant they were unable to open up as usual.
A poster put up at the branch read: "This Barclays branch has been closed down as part of a peaceful protest by Greenpeace.
"Barclays is the UK's biggest funder of fuels and one of the worst banks in the world for fuelling the climate emergency, which is affecting hundreds of millions of people across the world.
"It is time banks like Barclays stopped pouring money into fossil fuels and instead helped fund a way out of the crisis.
"We apologise for any inconvenience caused to Barclays customers and staff."
Staff were forced to wait outside and customers were turned away when they arrived first thing.
A message to Barclays in graffiti was also put on the pavement at the front door while another poster was stuck on the side of the building.
One staff member said a locksmith had been called to get the main gate to the branch open again.
A poster on the gate read: "This branch is currently closed due to a local protest which has prevented us from gaining access.
"We will open as soon as possible."
Morten Thaysen, climate finance campaigner at Greenpeace UK, said: "Barclays must stop funding the climate emergency, that's why we've taken action today.
"From floods to bushfires and record heat in Antarctica, the impacts of this crisis are staring us in the face.
"Yet Barclays keeps pumping billions into fossil fuel companies at exactly the time we need to stop backing these polluting businesses.
"Banks are just as responsible for the climate emergency as the fossil fuel companies they fund, yet they've escaped scrutiny for years.
"We've shut down branches across the country to shine a spotlight on Barclays' role in bankrolling this emergency.
"It's time Barclays pulled the plug and backed away from funding fossil fuels for good."
Greenpeace UK has set up a liveblog on its site providing regular updates.
Barclays have been contacted for comment.