A rising sports star is literally bouncing back following fears he would never get on a trampoline again.
Greyson Geddes, had been competitively trampolining for about two years when he was suddenly struck with lost move syndrome (LSM) in 2019.
The rare psychological condition inhibits an athlete's ability to perform a skill that was once second nature to them.
The brave nine year-old was determined to beat the condition and compete once more.
And after a year of work with therapists, the Dundee High School pupil has finally been able to climb back onto a trampoline and resume competing at the highest level.
Greyson's return to the sport was a triumphant one when he won gold at the Scottish Trampoline Championships in Perth last month.
Mother Kristeen Geddes said it was an emotional moment.
"Greyson has won a few gold medals before, but this one was particularly special." she said.
She said doctors suspect it was a fall that triggered the onset of Greyson's LSM.
"He was determined to get over it and was still keen to trampoline," she added.
"He would travel to competitions to watch, but he just couldn't take part.
"He would get frustrated at that but he didn't want to give up. But because he was determined, he worked with therapists to get over it and a year later it had gone as quickly as it came."
To help with his recovery Greyson watched videos of athlete Bryony Page, who suffered from a similar condition, for inspiration.
He was also given advice from fellow trampolinist Laura Gallagher — who is representing team GB at the Tokyo Olympics.
It is rare for LSM to reenter someone's life once they have beaten it, but Kristeen said the family were taking solace in the fact that he knows how to deal with it if it does.
Greyson's gold in Perth has secured him a place at the British Championships in Birmingham, the biggest stage he will have competed on so far, in July.
Greyson said be was ready for the challenge.
"I will be both excited and nervous competing in front of a much bigger crowd than I'm used to," he said.
"My coaches have upped my training to four days a week now in preparation for the nationals and it feels great to be back competing."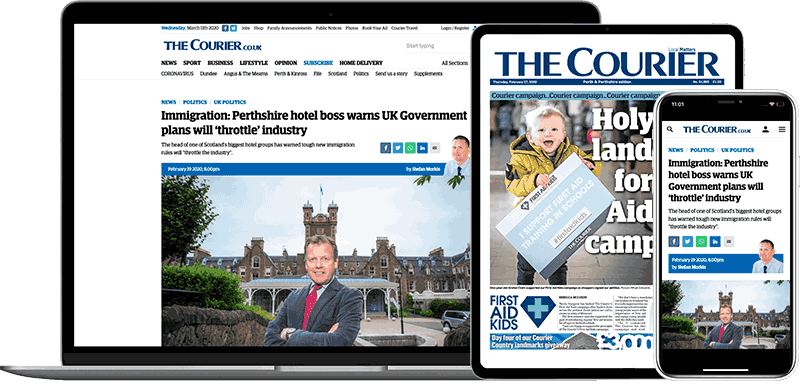 Help support quality local journalism … become a digital subscriber to The Courier
For as little as £5.99 a month you can access all of our content, including Premium articles.
Subscribe