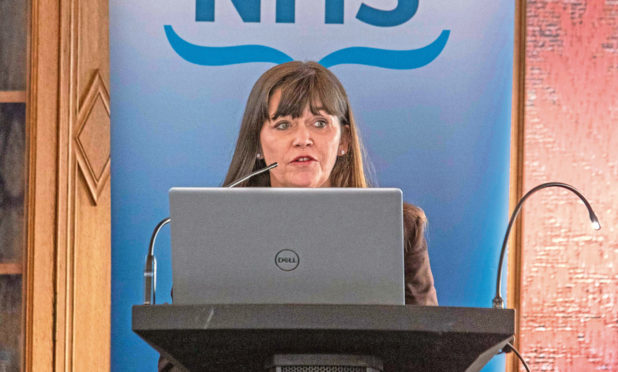 Scotland's mental health minister has apologised to patients and families in Tayside following the publication of a damning report into mental health services and revealed controls will be handed back to NHS bosses.
Claire Haughey hit out at the "unacceptable" findings of the report by former chief inspector of prisons Dr David Strang, which stated many staff feel undervalued and reported a lack of clarity around accountability.
Management for general adult psychiatry services in Tayside currently involves the region's three integration joint boards, which are made up of representatives from local authorities and health professionals.
Ms Haughey confirmed control will now be returned to NHS Tayside in a bid to "bring welcome clarity to the local arrangements and allow the partnership to focus on improved services for patients".
She said: "Both the health secretary and I have made no secret of our concerns about the approach to operational management of inpatient mental health services in Tayside. These arrangements have been unduly complex and are unique to Tayside."
The SNP minister also confirmed the creation of a collaborative strategic leadership group, consisting of council chiefs from across Tayside and Police Scotland's divisional commander, because the issues raised "cannot be resolved by one single agency".
"Far too many people have been let down and while it's not enough on its own, I would like to offer my apology on behalf of the Scottish Government for what they have endured," Ms Haughey said.
"Many Tayside patients, their family and friends, including those who have lost loved ones, will have found the report challenging. Their bravery, courage and candour was vital in shaping this report."
Ms Haughey also referenced difficulties in recruiting psychiatrists experienced by health boards across the UK. The Courier exclusively revealed last month that 14 out of 17 general adult psychiatry roles at NHS Tayside are unfilled.
The minister said a multi-disciplinary support package announced in January would not be a "one-off" and vowed the Scottish Government will "continue to work closely" with the health board to address the issues.
Scottish Conservative health spokesman Miles Briggs said the Scottish Government's apology would be welcomed by families but insisted it was now time for "real change".
He described the findings of the Strang review as a "shocking indictment of mental health services failing some of the most vulnerable people in our society and a culture of NHS staff in Tayside being demoralised".
NHS Tayside has previously apologised to anyone whose experience of services had fallen short of expected standards.
It said the change to operational management of general adult psychiatry "will now be discussed as a matter of priority by the board with integration partners, with the focus on improving services for patients".
Meanwhile, Dundee-based MSP Bill Bowman used the ministerial statement to call for the reopening of the Mulberry mental health unit at Stracathro Hospital, which closed in 2017 due to a shortage of junior doctors.
He said: "People coming from Tayside and further afield were given the gold standard of acute treatment at the Mulberry's bespoke, friendly centre.
"The end of that service sent them to the overloaded Carseview Unit in Ninewells."
Ms Haughey said: "I expect Tayside's strategy for transforming and improving mental health and wellbeing to give careful to consideration to all available resources at NHS Tayside's disposal, to ensure the best outcome for staff, patients and their families."
Campaigner Gillian Murray welcomes Scottish Government apology over failings
A campaigner whose uncle's death after being turned away from mental health services in Dundee was cited as a "catalyst" for the David Strang report has welcomed the Scottish Government's apology.
Gillian Murray spearheaded calls for an inquiry after her uncle David Ramsay took his own life days after being turned away for treatment at Carseview in 2016.
Mr Ramsay's care was cited by Liberal Democrat health spokesman Alex Cole-Hamilton as a major factor in the review being launched.
Ms Murray praised Labour MSP Anas Sarwar for his support throughout attempts to secure an inquiry and thanked Mr Cole-Hamilton for highlighting the case.
She said: "I appreciate the apology on behalf of the Scottish Government – better late than never.
"I hope that in the future when many separate families raise concerns over a number of years, they will be listened to.
"Multiple bereaved families raised concerns about mental health services in Tayside years before David was failed. If they had been listened to, who knows how different life would be."
Ms Murray said the David Strang review was "much more than just a report" and insisted it was "paramount that those failings are never repeated".
She added: "To hear that inpatient services will now fall under the NHS Tayside banner is good in the sense that there will be clearer lines of accountability."