'These songs are my salvation': Dundee's Be Charlotte pens emotional note as she releases new song amid lockdown
A Dundee pop star has released her latest single in the hopes of helping people get through the lockdown.
Be Charlotte wants her new song Lights Off – which was unveiled on Friday morning – to give music fans "three minutes of relief" amid the Covid-19 pandemic.
In a personal note, the singer-songwriter explained her decision to release the song amid the health crisis; and admitted she had debated about whether or not to do so for weeks.
She said Lights Off is an "incredibly personal" track which she wrote in a flat in Glasgow in August 2017 at a time when she felt "defeated, depressed and uninspired".
She described creating music as "my salvation" in the emotional message to fans.
She wrote: "We are in a time of unprecedented difficulty. The world as we knew it has changed. I realise that a lot of people are struggling just now.
"The pandemic has affected millions of people around the world and might continue to do so for some time.
"I have weighed up all the pros and cons of releasing music at this time of international crisis and changed my mind many times over the last few weeks.
"I have decided to release Lights Off as planned because of the circumstances in which it was written.
"I initially wrote it on an old out of tune piano in my flat in Glasgow, Scotland, at a time I felt defeated, depressed and uninspired.
"At that moment I recognised that I have felt like that quite often throughout my life.
"I think this song was the realisation that I had to find a way to express that sadness.
"Since writing the song it has opened up a lot of doors for me and is often the song that my fans want to hear the most. It's the song that my record label wanted to release since day one."
She added she has waited "a long time to share it (Lights Off) with the world".
VIDEO: 'It feels like the right place to be tonight' – Thousands attend 'once in a lifetime' V&A Dundee 3D Festival
Be Charlotte said: "These songs are my salvation. They are my way to figure things out.
"I know music isn't the cure for what we are collectively experiencing right now but I hope this song can give you three minutes of relief from whatever you are dealing with and maybe even make you dance a little.
"There are a lot of pressures involved in releasing music but in my mind, the song has already done what I intended it to do.
"I hope that it can connect with people who are feeling like they are not sure what to do next or how to get through the tough times.
"I hope it can encourage people to express themselves when their own mental health is suffering.
"We can dream with the lights off. We can see the rainbow through the clouds.We can get through this together."
Be Charlotte is the stage-name of former Morgan Academy pupil Charlotte Brimner.
In September 2018, she joined the likes of Lewis Capaldi and Primal Scream in playing the 3D Festival which marked the opened of V&A Dundee.
In 2018 she signed a deal with record label Columbia/Sony Music.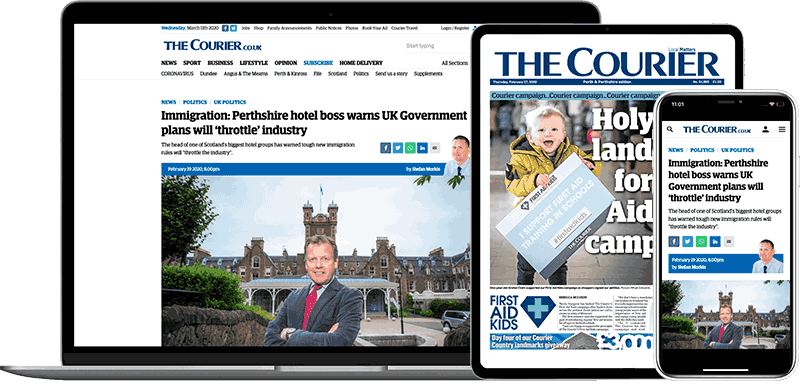 Help support quality local journalism … become a digital subscriber to The Courier
For as little as £5.99 a month you can access all of our content, including Premium articles.
Subscribe