VIDEO: Incredible moment Dundee women beat the lockdown blues with 'magical' rendition of city folk song
When Sheena Wellington wrote that the women of Dundee possessed a "spirit that the hard times never beat", it was a testament to generations who had suffered the hardships of work in the city's jute mills.
Now the folk singer's words have taken on a new meaning in the midst of the coronavirus pandemic after a rendition of one of her best-loved works captured the hearts of Scots across the globe.
A cover of Wellington's Women O' Dundee by a group of local folk singers, who were meeting together for the first time since the lockdown came into effect, has been viewed thousands of times on social media.
Last week Dolly O'Rourke joined with pals Lesley Ann Mcluckie, Aileen Carr and Barbara Dymock to record a clip for the Fisherman's Tavern folk sessions, which have gone virtual as a result of the coronavirus pandemic.
The four women – three former teachers and one retired doctor – are involved in the Tayside and Fife folk singing scene and were regulars at the Broughty Ferry pub's traditional music nights prior to the lockdown.
So for your Friday night's viewing… here are 3 of my lovely singing pals ( Lesley Ann Mcluckie, Aileen Carr and Barbara Dymock) and yours truly singing Sheena Wellington s fabulous song ' Women o' Dundee' which we recorded at Barbara's just before the new restrictions were announced!!

Posted by Dolly O'Rourke on Friday, 11 September 2020
Dolly, the former head teacher at Ancrum Road Primary School, said the video only came about by chance amidst a magical moment during a "one-off get-together" at Barbara's Monifieth home.
She added: "We are all retired. Barbara and Aileen: they are pretty well-established in the folk scene, singing in different bands, but Leslie and I just sing in pubs and at the Fisherman's Tavern and in Tayport.
"But we have all got pretty friendly. We all love that song Women O' Dundee.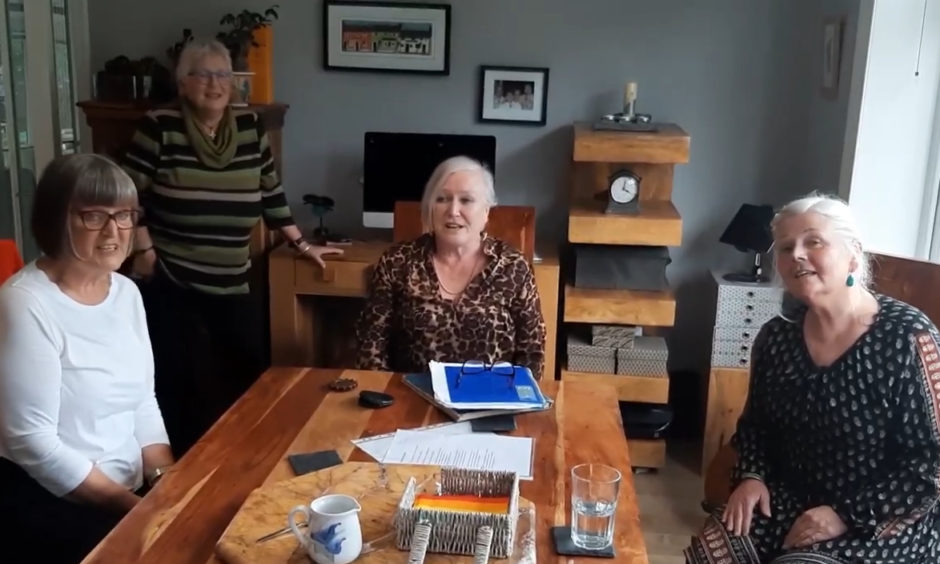 "It was filmed last week, before our (new) restrictions came in, for the online Fisherman's Tavern sessions. It was such a good afternoon.
"We were just at Barbara's for fun and we were blethering and then we just started talking about this song we used to do. It was just one of those magic moments. That video was not rehearsed.
"We have all been singing for a long time but that is the first time time the four of us got together. I think we have sung together once before. We are all from Dundee. It was just lovely."
Dolly, who lives in Newport, said they were all blown away by the online reaction after the video was shared to Facebook at the weekend.
They have started calling themselves the Viral Rebel Fishwifies, although they have stopped short of forming a four-piece band.
She added: "It was just a bit of fun. We all just absolutely thrilled and we can't believe it has taken off like this. We are still on cloud nine.
"The video has been shared in America, New Zealand, all over the place.
"We were just having a great time enjoying all the comments.
"We're waiting on the video to hit 40,000 views. It is just growing arms and legs."
That the song has touched so many people is a testament to Sheena's lyrics, she added.
"A lot of folk in Dundee, a lot of folk were really moved by it," said Dolly.
"All these people that have aunties and grannies from Dundee: they just really identified with the lyrics.
"The big credit is to Sheena who wrote the song. I think it is one of the best songs (of hers)."
Dolly said it has been tough being unable to attend the live folk sessions during lockdown.
She added: "We can't wait to get back and sing. These sessions, they are not like folk clubs, they are very informal.
"Some nights you get these brilliant moments. That is what we miss. We missed that, missed having that camaraderie. I think that is what everyone sees in the video."