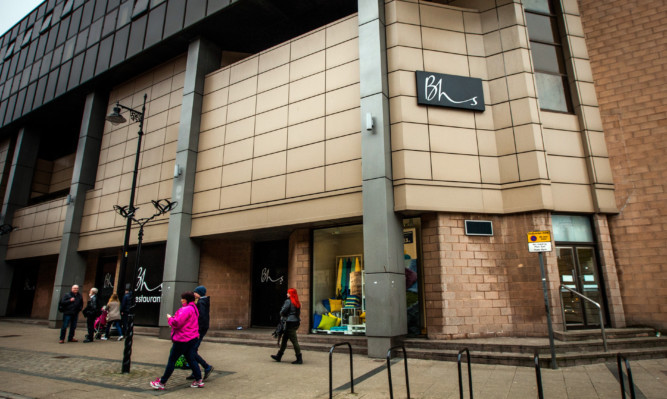 Dundonians have reacted with dismay to news that British Home Stores could be set to close.
The department store giant filed for administration early on Monday morning, putting 11,000 jobs at risk across the UK.
BHS has been a permanent fixture in Dundee's Wellgate Centre for more than three decades.
Now, with the stores bosses confirming that they have had "no alternative but to put the group into administration", the future of the city favourite looks uncertain.
With the Wellgate already struggling to compete with Dundee's Overgate Centre, local councillors and shoppers fear that the news could be the final death knell for the facility.
Maryfield councillor Ken Lynn told The Courier that he has genuine concerns for the future of the centre.
He said: "The Wellgate Centre is a real concern in terms of its viability.
"There's a lot of empty units and it's already seen as a poor relation of the Overgate.
"I know that the centre hasn't been doing that well in the last few years, but it's still a prime site.
"You would still hope that there can be some sort of rescue package. I'll keep my fingers crossed."
Shoppers who braved the weather yesterday shared Mr Lynn's sentiments.
BHS regular, Doris Nicoll, 74, expressed her sadness that the store may be set to close its doors
She said: "I heard this on the news this morning.
"It's a shame for the people who may be losing their jobs.
"It is a blow for the Wellgate."
Shopper, Andy Walker, 64, said: "My wife is absolutely gutted.
"She was out and phoned me to ask what was going on with BHS.
"I told her and she couldn't believe it.
"This is another blow to the economy of Dundee."
57-year-old Jane Mckenzie added: "There's not a lot of stores left in the Wellgate as it is.
"It's definitely a blow for Dundee and for the centre."
Confirming that administrators Duff and Phelps have been appointed to oversee the sale of the business, a spokesperson for BHS confirmed that the business has failed to maintain a necessary level of sales
She said: "The Group has been undergoing restructuring and, as has been widely reported, the shareholders have been in negotiations to find a buyer for the business. These negotiations have been unsuccessful.
"In addition property sales have not materialised as expected in both number and value.
"Consequently, as a result of a lower than expected cash balance, the Group is very unlikely to meet all contractual payments."
Peter Aitken, the Wellgate's Centre Manager said: "BHS will be a huge loss to Dundee if the administrator is unable to secure a buyer for the company.
"It is a very sad and stressful time for all concerned.
"The Centre owners are working with a number of parties to develop a strategy for Wellgate."