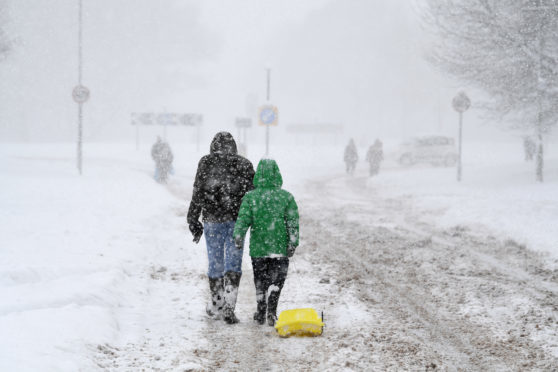 Tayside and Fife will not be in for a third blast of freezing winter weather from Eastern Europe, according to forecasters.
The Met Office has shot down rumours of a third "Beast from the East" ahead of a short period of colder conditions, hill snow and rain due to hit Scotland this weekend.
Though colder weather will move into Tayside and Fife from Friday into Saturday, temperatures are not expected to drop below 3C or 4C locally.
Snow is only predicted to land in the most rural areas on ground above 1,640ft – and even then it may not last long due to the longer spring days.
And Met Office spokeswoman Nicola Maxey said the cold snap isn't moving into the UK from Eastern Europe and Russia like the first Beast from the East, which brought several feet of snow and widespread chaos to Courier Country from late February into early March.
It was followed by another weather front labelled the "Mini Beast from the East" in mid-March, with snow returning to the local area.
Mrs Maxey said the cold weather moving into Scotland from Friday has its origins in the south of the UK and not the Arctic Circle, however it will move into the local area from a "more easterly direction".
And the sunny weather which has graced Courier Country in recent days looks likely to disappear in the coming days.
"There is no 'Beast from the East III'. It never was coming, it was just something that was sort of written about but had no basis in fact", she said.
"There is going to be some colder temperatures. We are not looking at anything in the same realm as the two cold snaps at the end of February or mid-March.
"What we have got is a low pressure system by the weekend which will be over the south of the UK. It will bring up some air from the south. It is not air coming from Russia or Siberia.
"Temperatures are going to drop. We are going to see unseasonable, low temperatures.
"It is going to be a bit grey with some light rain around, and there is still a risk that over high ground in the north of Scotland it will fall as snow.
"That is over higher ground above 500m (1,640ft ). We are not talking about anything in any way, shape or form like what we had at the end of February and mid-March.
"Any flurries of snow are less likely to settle. It is fairly typical spring-like weather.
"Dundee will be 5C-6C, this will be a degree or two off for more exposed rural areas. They could well be looking at 3C-4C."
She added: "There is a chance of some showers Friday and Saturday. On Tuesday we have got a weather system coming in and we are looking at some heavy rain into the morning. There is a chance you'll see some rain and dampness around most of the day.
"Wednesday and Thursday are both looking fairly cloudy. Thursday you're probably more likely to see a return to a bit of sunshine.
"After Easter is does certainly look as though conditions settle down again."