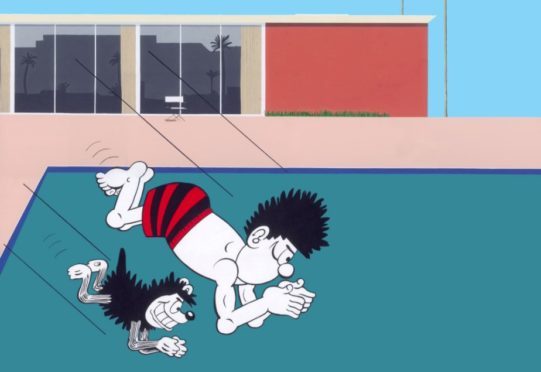 They've been comic icons for decades – now Dennis and Gnasher are making a splash in the art world too.
To celebrate The Beano's 80th anniversary this year, the comic asked artist Horace Panter – who also plays bass with legendary ska band The Specials – to create new art featuring some of its most iconic characters.
Panter decided to look back to 1960s pop artists such as Andy Warhol, David Hockney and Roy Lichtenstein for inspiration for his paintings and silkscreen prints.
The exhibition goes on display at DC Thomson and Co Ltd's London offices in Fleet Street on Friday and will come to Dundee later in the summer.
The 17 pieces include Minnie the Minx as a Warhol starlet, Lord Snooty and Billy Whizz  re-imiagined in the style of  Roy Lichtenstein paintings and Dennis and Gnasher making mischief in Hockney's LA swimming pool.
The pieces took the artist six months to create in his Coventry studio.
He said: "Growing up, there was always Beano around; those characters were an integral part of my childhood. Dennis, Minnie the Minx and, my personal favourites, the Bash Street Kids – street smart, irreverent anti-heroes for the under-12s; when punk rock came along it seemed like the Beano set to music.
"I'd like to think the paintings are funny and irreverent, but paying homage to both my favourite artists and to the comic characters.  For me, it's the ultimate labour of love"
Allison Watkins from Beano Studios said: "Over the past 80 years, Beano has been the visual soundtrack to British childhood.
"Whether in the 1940s, 70s, or noughties, our characters have paved the way for fun and raucous adventures, making this partnership with Horace Panter the perfect fit and a wonderful way to celebrate this big Beano birthday."
The Horace Panter exhibition is open to the public at Beano Studios from until May 9.
The exhibition will then be displayed in York, Dundee, Dublin and Harrogate.
Panter studied art in Coventry in the mid 1970s. While there he met Jerry Dammers and the pair formed The Specials, one of the most important bands of the post-punk 2-Tone era.
The group's hits included Ghost Town, Too Much, Too Young and Rat Race.
The group celebrates its 40th anniversary next year and are planning a UK tour to mark the occasion.