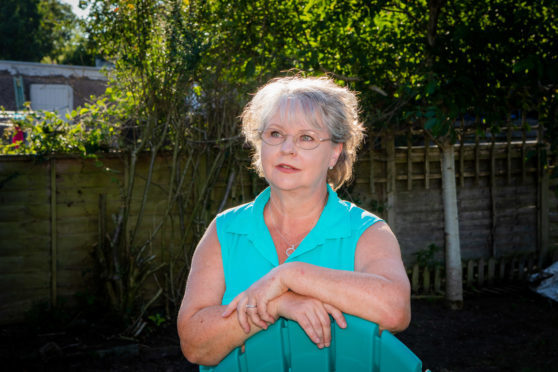 A Dundee pensioner has hit out after being "treated shabbily" by the government for the second time in her life.
Sandra Sapeluk, 64, is part of an age group of women who have had six years added to their wait for a state pension.
Councillor Anne Rendall has started a campaign for women like Sandra to receive a fairer deal. The Waspi campaign, Women Against State Pension Inequality, is planning to take legal action against the UK Government over the matter.
The Conservative and Liberal Democrat coalition passed the 2011 Pension Reform Act soon after coming into office, saying changes were needed to combat the public spending deficit.
A government report earlier this year found women gain about £29,000 less than men in a typical retirement.
Sandra is just one of more than 8,000 woman the SNP councillor estimates has been affected.
It's not the first time Sandra has been victim to similar government policy. In her 20s she was part of a generation of married woman who did not receive a carers allowance as it was considered "part of a married woman's role" to care for family members.
Sandra has cared for her disabled daughter for 40 years. Single men and women, and married men, all received the allowance but married women did not, until a legal case raised by Jackie Drake in 1986.
"A lot of people would laugh at how ridiculous that is now," Sandra said.
"There has been a history of previous governments treating women shabbily.
"This is the second time I've been in a group of women who have to bear the brunt.
"The first I knew of the changes was a few months before I turned 60. I might never retire and caring can be a 24/7 job, so I am greatly affected by this policy.
"The silly thing about this is there is less than an 11 months age difference between me and my husband and he is now retired and getting a pension but I have to keep waiting.
"It is discriminatory against women and could make a big difference to some people's lives."
Ms Rendall said: "Anger is growing about state pension inequalities. In Dundee, there are more than 8,000 women affected by the changes.
"Feisty women from Dundee intend leading the way in launching legal action against the DWP on the grounds of discrimination.
"There is a long tradition of 'feisty women' from Dundee who have achieved remarkable social and political change. We intend to keep fighting for pension justice and winning."
The government said they are "listening" to stories such as Sandra's, and have pledged cash to mitigate the effects.
A DWP spokesperson said: "As we are all living considerably longer than when pensions were introduced, we need to adjust the pension age to ensure the sustainability of the state pension now and for future generations.
"We have thoroughly reviewed the options for equalising the State Pension age, listening to concerns along the way. As a result, we have spent an extra £1.1bn to ensure that nobody will reach the State Pension more than 18 months beyond when they would have done under the 1995 Pensions Act timetable."