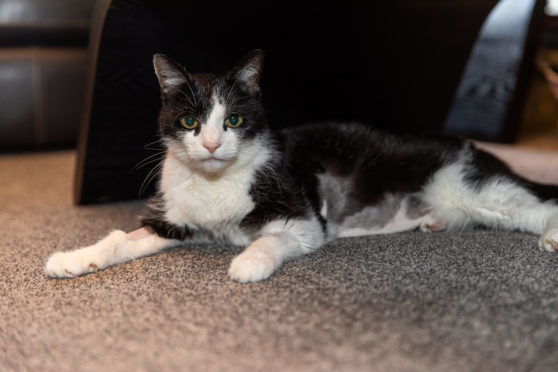 A Dundee woman has been left "heartbroken" after a callous animal abuser shot her cat with an air rifle.
Audrey Ward's pet, called Levi, remains in a critical condition after the pellet lodged in his lung, with vets unable to remove it.
The incident was thought to have happened in the St Mary's or Clatto areas of Dundee some time on July 25 or 26.
Levi, who is 14 and already "elderly" in cat years, has spent four days at the vet's on a drip, anti-inflammatory medication and antibiotics.
Audrey, 55, of St Ninian's Terrace, said: "Levi went missing a week past Wednesday and was away overnight, which is unusual for him.
"He came back the following day and at first there didn't look like there was anything wrong – you couldn't see a wound on him.
"We took him to the vet after we noticed he wasn't eating and even the vet couldn't tell he was injured until they did an X-ray.
"It's heartbreaking that anybody could do that to a domestic animal.
"I've no idea who it could be. We've never had any trouble like this before.
"Everybody is very upset, including my seven-year-old granddaughter, who is aware of what's happened."
Police have issued an appeal for information to trace the culprit.
A Police Scotland spokesperson said: "A black and white cat called Levi, who lives in St Mary's, returned home on Thursday evening and appeared unwell.
"After being seen by a vet, it was found that Levi had been shot by a .22 air rifle.
"The pellet was still in his body, having lodged in his lung. The pellet can't be removed and Levi remains poorly.
"Levi does roam around the St Mary's and Clatto areas when he is out, therefore it is not possible to put an exact location or time to when this took place.
"While we appreciate it is extremely unlikely that anyone would have actually seen this happen, someone in the area must know of a person or persons with an air weapon who could potentially have done this.
"If you have heard of anyone doing this and maybe bragging about it, we would urge you to do the right thing and tell us.
"This isn't something to be proud of and is actually despicable."
Anyone with any information should contact Police Scotland on 101, quoting CR/18220/18 or speak to any police officer.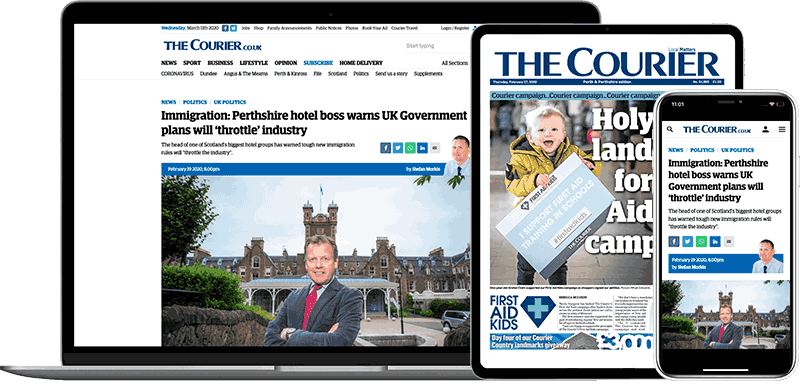 Help support quality local journalism … become a digital subscriber to The Courier
For as little as £5.99 a month you can access all of our content, including Premium articles.
Subscribe