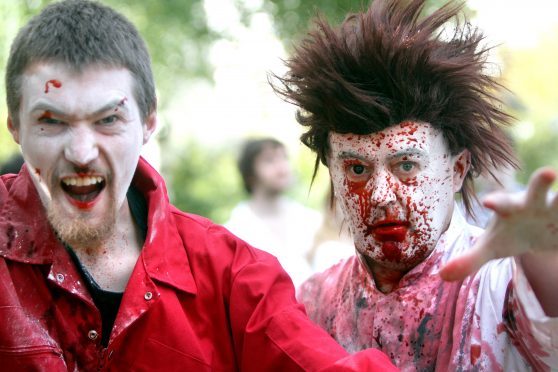 An annual zombie walk which sees the city centre transformed into something akin to a post-apocalyptic nightmare will raise needed funds for the Dundee Foodbank.
Now in its seventh year, the walk will once again see horror-enthusiasts slap-up in the guise of their favourite monsters and traipse incredible slowly through town.
Organised by Dundee University graduate James Thomson, the event has raised thousands of pounds for good causes over the years.
James, who now lives in Kent and makes the 1,000 mile round trip to the city each year said funds raised by participants this year will be donated to the Dundee Foodbank.
In previous years charities including Shelter, Progressive Supranuclear Palsy, the British Lung Foundation and Meningitis Now have all benefited from the walk.
Participants are encouraged to create their own zombie costumes, but for a small fee those arriving before 1.30pm at the Dundee University student union building will be able to get their make-up done by the experts.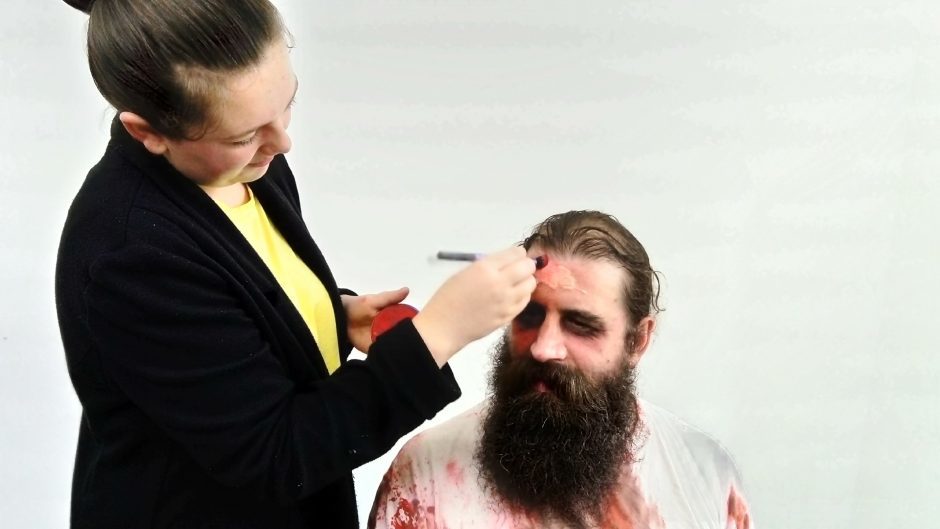 James adds that the walkers will take their zombie-spiration from the classic "slow" zombies found in the films of George A Romero, but if participants wished they could dress as the un-dead from other franchises if they wished.
He said: "The zombie walk will start on the grass outside the Dundee University Union on Balfour Street and will go past Tonic, the Caird Hall and we will have a break in front of the Wellgate centre.
"Then we will continue the walk looping round past the McManus and the Post Office and finishing back in front of the union. There will also be an after-event at The Tinsmith nearby."
James and his wife Susie set up the event in 2012. Their love for all things un-dead has featured prominently throughout their relationship,  with James proposing Susie during the walk in full zombie paraphernalia in 2014.
Further information, including how to sponsor a zombie, can be found here.
---
How to play dead – Rules for Zombies
They may be the great un-dead, but Zombies still have to play by the rules.
Zombie Walk have published their twelve commandments on the do's and don'ts of recreating Night of the Living Dead.
1: Keep Your Bloody Hands To Yourself. Do not under any circumstances wipe, smear, or splatter blood on anything but yourself. It is considered vandalism to deface public & private property with blood.
2: Do Not Rock Cars, Climb Buses, or Bang On Windows of any kind.
3: Do Not Litter. Place all empty make-up packages, tissues, and blood containers in bins.
4: Avoid nudity. This is a family event with lots of little zombies running around.
5: Stay on the designated path. Do not meander in and out of opposite traffic lanes. Don't block traffic. Police might interfere and disperse the walk.
6: Obey Traffic Signals. A red light means STOP!
7: Do not harass anyone who isn't enjoying the experience. Not everyone will know what's going on, or find it as amusing as we will. Please do not try to scare little children. Don't touch or bite strangers, ever.
8: No drugs, no alcohol. The walks are outside and we do not want anyone getting arrested for being drunk in public.
9: Do not impede sales at any business en route. By all means stare hungrily at people inside of shops and restaurants, and again please don't leave bloody hand prints on their windows.
10: Do not force your way into any business establishment if you are not welcomed there.
11: ANY WEAPONS SHOULD BE CLEARLY FAKE. Brightly coloured toy guns and toy guns with the obnoxious orange caps on the end are a must, if a gun is part of our costume. Absolutely no replica weapons, the word replica implies "like the real thing." DO NOT aim, point, or fire any weapon at someone's face.
12: NO PART OF YOUR COSTUME SHOULD SQUIRT OR SPRAY ANY LIQUID. This sounds like fun. But don't do it. It will piss-off bystanders, and could get someone assaulted or arrested as well. Also please don't apply fake blood to the point where you are dripping it all over other people and the sidewalk.
13: If you see someone else breaking the law or about to do something that will get them assaulted or arrested, politely remind them of Zombie Walk etiquette and save them from themselves.
14: Remember- Dressing as a zombie and wandering about moaning is chaos and fun enough. If there is damage to shops, arrests, assaults, or a big mess made, then future Zombie Walks may be in jeopardy.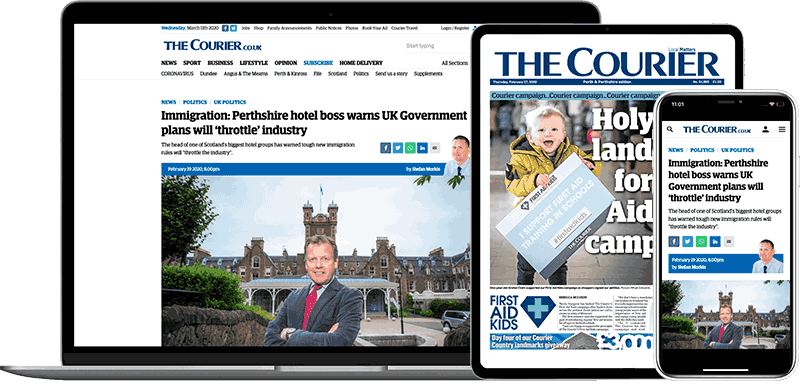 Help support quality local journalism … become a digital subscriber to The Courier
For as little as £5.99 a month you can access all of our content, including Premium articles.
Subscribe