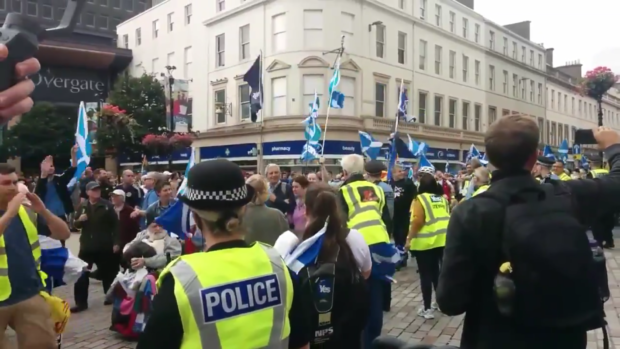 Thousands of people brought Dundee city centre to a standstill this afternoon as marchers declared their desire for another independence referendum.
Organisers All Under One Banner claim as many as 16,000 people took to the streets to put pressure on Nicola Sturgeon to fire the starting gun on another Indy vote.
Police have yet to release their estimate of how many marchers descended upon Dundee. A spokesman said he did not know when their number would be released.
Incredible turnout today in Dundee on the march for Scottish independence.#AUOBDundee pic.twitter.com/IhOF6gfooJ

— Catalans for Yes🎗 (@CatalansForYes) August 18, 2018
Buses arrived from all corners of Scotland during the morning before the march set off.
The march seemed to go off without a hitch and police claim there was no trouble. A small band of about 25 pro-Union supporters staged a counter protest in the city centre, but despite some jeering from both sides there was no sign of trouble.
The procession kicked-off at 12.45pm in Baxter Park, before making its way to the city centre and then towards the West End, finishing in Magdalen Park.
Gr8 turnout on the Dundee Indy march today, not least the whole @CllrAlexander family #AUOBDundee pic.twitter.com/T1XeR5u0lQ

— Shona Robison MSP (@ShonaRobison) August 18, 2018
Roads were closed and buses diverted to make way for the marchers.
SNP MPs Chris Law and Stewart Hosie, MSP Shona Robison, journalist Lesley Riddoch and former MSP Tommy Sheridan were just some of the prominent pro-independence faces seen at the march.
Neil Mackay, organiser with All Under One Banner, said: "Today was a great day with a lot of support. We are going to continue to keep doing these and put the pressure on the Scottish Government and the media until there is independence.
"The march was brilliant and we are going to tidy Magdalen Park up after us so that we leave it better than we found it."
However, Dundee West MP Chris Law said the timing of another indy vote is not paramount.
He said: "It's been really wonderful and I've been finding out a lot of different people's reasons for marching.
"When people ask me about the timing of another referendum I say not to worry about the date. The most important thing we need to do is work as if we're already an independent country and talk to other people about our reasons for wanting independence.
"If we do that now, then when the time comes we will already be well on our way.
"It was a great day and I am proud to represent Dundee."
The celebrations at Magdalen Park, which included music and speeches, ended at 5pm.
For more, see Monday's Courier.