The Dundee bass player with rock icons Simple Minds has revealed that it will be a "huge buzz" for him to end the band's Grandslam tour with an open air gig in his home city on Sunday September 9.
In an exclusive interview with The Courier, Ged Grimes, 56, said it was great to see so much "positivity" going on in the city and it would be a "real privilege" for him to play Slessor Gardens in front of the soon-to-be-opened V&A.
On Tuesday September 11 it will be exactly eight years since the former St Saviour's High School pupil and Danny Wilson member joined Simple Minds. The Minds have been touring for months with The Pretenders and St Andrews-raised singer songwriter KT Tunstall.
However, the biggest challenge he's had with the tour's finale in Dundee, he reveals, has been finding space on his guest list.
"It's been an absolute nightmare!" he laughed.
"As you can imagine, my mum has insisted in coming. She's 82 – I'm like 'it's a long night' – she's like 'I'm there, get me a seat'. She will literally be in the front row – although I'm not sure about the mosh pit!"
Ged said it had been "magic" to be on tour with KT Tunstall. The 43-year-old former Dundee High School pupil worked with Simple Minds on an acoustic project last year, and touring came about as a result.
"We've had such a brilliant time with her," added Ged. "She's such a vibe. The real deal. Great voice, great songs but also just in terms of being on the road with people for a long time, her wit – she's funny as well."
He's also full of praise for The Pretenders' Chrissie Hind – Simple Minds front man Jim Kerr's ex-wife – who has been "singing like she was 19" throughout the tour.
But despite Simple Minds being founded by Jim Kerr and Charlie Burchill in Glasgow over 40 years ago, Ged said they've always had a "soft spot" for Dundee.
He also points out that ironically, he's now been in Simple Minds for longer than he was in Danny Wilson.
"It goes way back to Simple Minds playing Dundee in the early days at the university, supporting Peter Gabriel in the early 1980s," he said.  "So we have a lot of banter on the tour bus – I do get the p*** taken out of me because I am officially a 'Dundee Ambassador!' I'm bigging up the city all the time!
"But for this weekend really for me it's just the culmination of seeing all the positivity that's going on.
"Just to be looking out over the Tay – hopefully as the sun goes down with a local crowd. It'll be something special. I just hope the weather holds!"
Ged's former band Danny Wilson were best known for their 1988 UK number 3 hit single Mary's Prayer.
The band served as a launch pad for the career of his old school friend Gary Clark – who will be part of the 3D Festival line-up taking place to celebrate the opening of the V&A on September 15.
Ged said that if it hadn't been for Simple Minds heading for Mexico next week, and Gary being in New York this week, they might have performed together again in Dundee.
However, Ged revealed that they actually had Simple Minds to thank for Danny Wilson becoming a success in the first place.
"Me and Gary were staying in a squat in London in 1982," said Ged.
"We just couldn't get anywhere. It was that thing where you had to go to London to be part of anything – you couldn't get record companies coming up here.
"I remember it vividly. We were down on our luck and Simple Minds had released New Gold Dream, around 1982/83.
"I remember being really conscious of them being a Scottish-based band with Scottish management and it was such a pivotal record for me not just musically but the fact those guys were Scottish – four albums down the line with Scottish management.
"We thought 'maybe we don't need to be in London'. Then shortly after that, the following the year, we moved back to Dundee, regrouped, then the whole centre of the music business was changing – looking to the north and a new wave of Scottish bands coming through.
"So ironically Simple Minds were part of my decision to come back to Dundee because we were getting nowhere in London.
"And ironically I've now been with Simple Minds for longer than I was ever with Danny Wilson. There's a wee factoid!"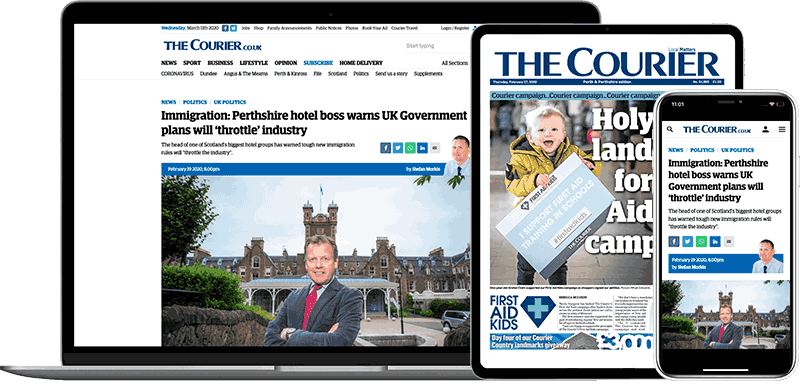 Help support quality local journalism … become a digital subscriber to The Courier
For as little as £5.99 a month you can access all of our content, including Premium articles.
Subscribe