The past and present collided at a celebration of 150 years of Morgan Academy.
A packed Caird Hall saw live music, video, readings and sport performed by current and former pupils of the school.
The event was organised by a small team former pupils and features many alumni who have gone on to achieve fame in various fields.
Among the entertainment was star of stage and screen Hilton McRae, musician Dave Webster, director of the Scottish Poetry Library Asif Khan and The Courier columnist Craig Millar, who presented the show.
Closing the first half of the show, and fresh from entertaining thousands at Slessor Gardens for the 3D Festival, was Be Charlotte, who played a short acoustic set.
There was also film footage of other former pupils, plus demonstrations of sports such as karate, tumbling and dance. The school wind band, rock band and choir also performed.
Among the stars shown on screen were former Aberdeen and Newcastle Utd midfielder Stephen Glass, former Dundee striker John Duncan, Star Wars actor Ian McDiarmid  and singer Edwyn Collins.
Amongst the crowd was the oldest former pupil, 103-year-old Olive Brewin. The crowd cheered for her when the host pointed her out.
Morgan Academy Former Pupils Association also invited current and former pupils to take part in their choir and orchestra for the grand finale.
Organiser Frances Irons said: "It's all come together really nice and the people seem to have enjoyed themselves. It's been a really mixed group that have come.
"We are trying to celebrate what has gone before but also showcase what is going on now at the school.
"It is a very special place and it just shows how special it is when you see so many people come here and take pride and support it."
Morgan Academy opened as the Morgan Hospital in 1868, following a £100,000 bequest from John Morgan, an indigo planter in India.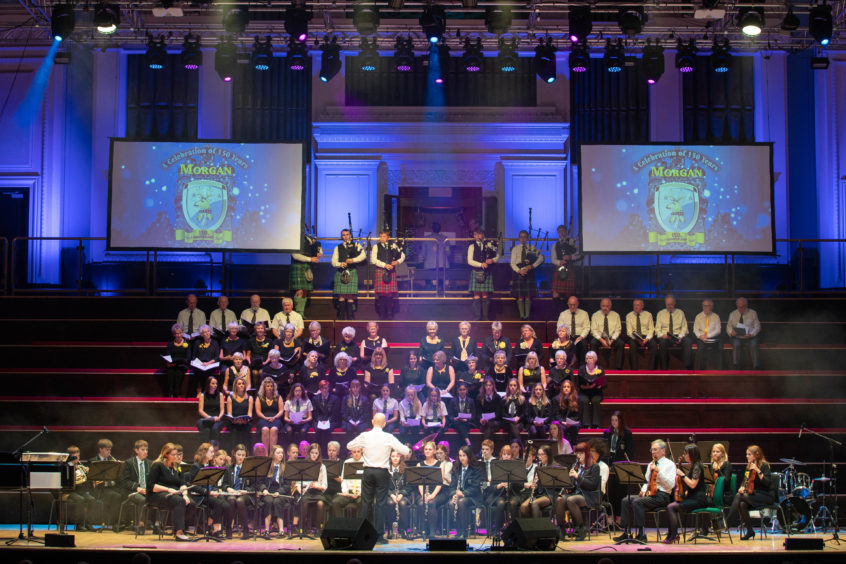 It was sold to the Dundee Burgh School Board a decade later for £15,500 and in 1889 began its new life as an academy for boys and girls.
In the 1960s there was considerable debate about the school's future with some city councillors urging that it should not be "modernised" but rebuilt on a site north of the Kingsway.
A blaze in 1972 badly damaged the eastern wing, Another extension was added in 1994 to house a growing roll.
The school was hit by another inferno in March 2001 and was shut until August 2004 while it underwent extensive repairs.