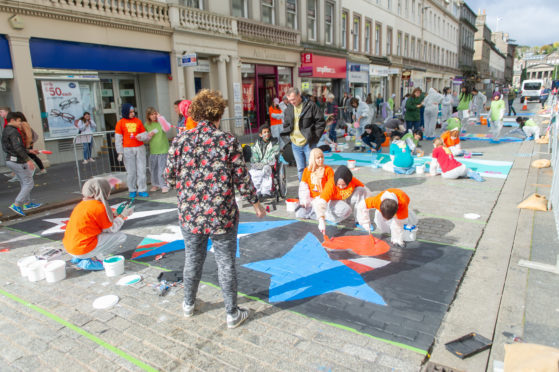 Youngsters brought dashes of colour to Dundee's Reform Street over the weekend in a bid to bring an "uplifting" atmosphere to the city centre.
The Re-Formation live street art event saw dozens of young people bring their designs to life on the main thoroughfare's cobbles on Saturday and Sunday.
Co-ordinated by Dundee youth organisation The Corner, it is part of the Scottish Government's Year of Young People 2018.
Most of the street was dedicated to designs worked on by those involved over the past four months, however space was also left for the public to have a go.
Laura Cooney, community learning and development worker with The Corner, said one of the main design themes was chosen as mental health as youngsters working on the project felt "really strongly" about the issue.
She said: "There are various themes but mental health was the one recurring topic that they all spoke about.
"They wanted it be something positive though and to make it colourful.
"The response from the public has been amazing. There's been so many people coming up and getting involved.
"Many have said the messages have made them quite emotional."
Ten community groups have been involved in the large-scale partnership project, aimed at celebrating and promoting young people's ideas, skills and achievements.
A group of young Syrian refugees were among those taking part.
It is now hoped the artwork could become a permanent feature with new designs painted every few months.
Ms Cooney added: "Street art is becoming a big thing in Dundee and those involved were definitely inspired by all the art springing up around the city.
"Young people just didn't find Reform Street an attractive place and so we asked the council if we could do it there.
"They could not have been more supportive so we're very thankful to them."
The organisations involved include Dundee East Youth Team, Hot Chocolate Trust, Tayside Council on Alcohol, LGBT Youth Scotland, Rock Solid, Young Carers, Dundee International Women's Centre, Our Community Space (Hilltown), Morgan Academy and Harris Academy.
Meanwhile, Saturday also saw the city centre come alive with a Christian music festival packing out City Square.
Creation Fest, which tours across Scotland, brought live music, arts, sports and free family activities to the city.
The event, in collaboration with Dundee Churches Together, featured a sports pitch, flight simulator and hi-tech youth bus complete with gaming stations and an indoor climbing wall.