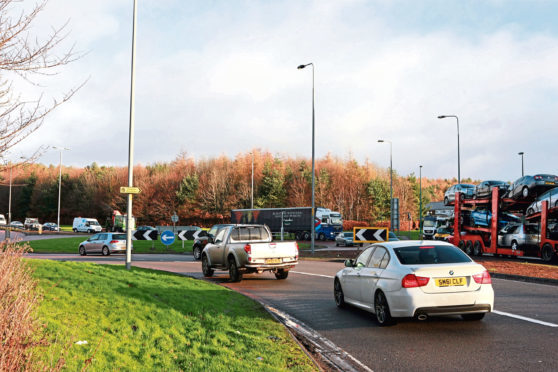 At least 16 people have objected to plans to upgrade the A90 Swallow Roundabout outside Dundee, putting the future of the controversial work in the hands of Perth and Kinross councillors.
Builders Springfield Properties want to increase the number of lanes on the roundabout and add lights in an attempt to manage the traffic created by the 1,300 homes it plans to build to the west of Dundee.
Dundee City Council first granted planning permission for the upgrade in 2015, but Perth and Kinross councillors now also have to pass the proposed development after it emerged part of the junction is in Perth and Kinross.
Invergowrie residents are worried the redeveloped roundabout will lead to more motorists using the town as a "rat run" as they seek to avoid the junction.
The number of objections has now passed the tipping point of six, meaning a Perth and Kinross Council planning officer will compile a report with a recommendation for councillors to either approve or refuse planning permission.
Carse of Gowrie councillor Alasdair Bailey, Labour, who first highlighted that a portion of the roundabout was located within Perth and Kinross, said he had lodged an objection.
"I'm very concerned that the applicant supplies no evidence to tell us what the impact of these changes will be on traffic rat-running through Invergowrie.
"In fact, there's a strong chance that the situation will be made worse because the simulation provided by the applicant tells us that after the works, the morning queue lengths coming out of Dundee will reach similar lengths to current evening queues.
"Therefore we could see rat-running in the morning as well as the evening after this scheme."
Angus Forbes, a Conservative councillor for Carse of Gowrie said he hoped to meet with the developer as soon as possible to discuss his concerns.
"I am convinced that putting lights on this roundabout will cause more traffic to use Invergowrie as a rat run than currently happens.
"One Tuesday night in August I counted 124 cars and that was between four and five, not even rush hour.
"I have to accept that the signals will help other drivers approaching the roundabout from other directions, and for that basis it will likely happen, but my priority has to be to my constituents.
"It is my duty to try and prevent their village becoming a less safe place as a result of this development."
A Springfield Properties spokesperson said: "We submitted a masterplan to Dundee City Council with a longer term vision to build a new village, Dykes of Gray, to the West of Dundee. This masterplan incorporated plans to ease congestion and improve the functionality of the Swallow Roundabout.
"As part of the programme to deliver this masterplan, we have submitted our plans for the Swallow Roundabout improvements to Perth and Kinross Council.
"The work at the roundabout, including the installation of traffic lights, will take approximately 30 weeks and we are expecting to complete the project by the end of 2019."