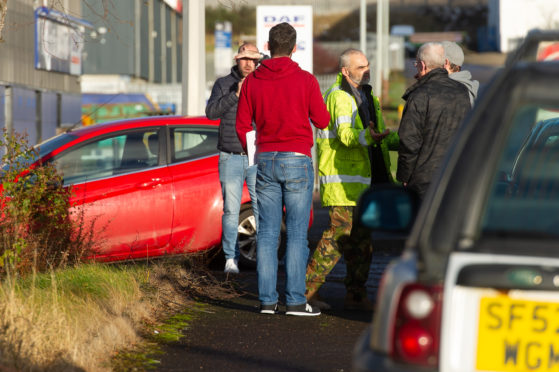 Furious staff at the Dundee plant of a troubled clinical waste firm have accused bosses of "doing a runner" after driving away from a meeting to discuss company redundancies.
Healthcare Environmental Services (HES), which was responsible for disposing of clinical waste from every medical facility in Scotland prior to ceasing trading, handed redundancy notices to more than 100 workers in Shotts on Thursday.
A scheduled meeting for Dundee staff was postponed until Friday at Wester Gourdie Industrial Estate.
Managing director Garry Pettigrew was seen approaching the meeting in his private-registration Range Rover shortly after 11am but reversed and drove away after he spotted workers and press waiting outside.
Senior team leader Billy Robertson, who runs daily operations at the Dundee plant, said he received a call from Mr Pettigrew who reportedly told him he had "had it up to here" and would not be attending.
Staff received their last wage at the end of November and estimate they are due, on average, more than £3,000 each with overtime and notice pay, while some with years of service claim they could be owed upwards of £15,000 in redundancy.
Stuart McSorley, 39, who has worked for the firm for around 18 months, said: "I can't believe he would just turn around and drive away like that when he knows we're all having to do ad-hoc work at this time of year to try and cover the money he owes us.
"I've cancelled shifts and time with my family to come and do this and he's not even got the neck to come in and explain why he's not paid the wages."
HGV driver Colin Geekie, 35, said: "Just because he's had it up to here, what about us lot? He's left us in the dirt. I've got rent and bills to pay this month. What am I supposed to tell them, 'my boss has had it up to here'?"
Time sheets at the centre show workers had regularly been completing more than 60-hour weeks after being offered overtime but they received a text message on Christmas Eve to tell them wages would not be paid.
Mr Robertson said: "I'm going to try to arrange a meeting with [Pettigrew] because we can't have this, everyone in limbo. He basically said he's had enough of the press and he doesn't want to face them anymore. That's why he buggered off.
"He told me to tell the lads all the usual, 'I'm sorry and that, I tried my best' and they did a great job. I'm going to arrange to get in touch with him because at the moment we don't have a clue what's going on."
The company, which has still not spoken directly with Dundee staff, initially failed to respond to a request for comment.
In a general statement released almost 24-hours after he "ran-off", HES managing director Garry Pettigrew said: "We have tried so hard over the last few months to keep going but we've now reached the position where this is no longer tenable.
"Regrettably, we have informed staff that we are ceasing operations.
"We believe that TUPE applies here and we hope that the staff will have the opportunity to transfer to the new contractors appointed by NHS National Services Scotland.
"The contracts in England also fall within TUPE and Mitie and the other appointed contractors should allow this process to be implemented immediately to secure staff and customer services."
---
Staff alarmed by human waste left 'lying around'
HES became embroiled in a clinical waste stockpiling controversy earlier this year and was set to lose its NHS Scotland contract in April, after earlier being stripped of 17 licenses with NHS trusts in England.
Workers in Dundee have raised concerns about untreated clinical waste "lying around" at the Wester Gourdie site, which includes human body parts, medication, and a large rented skip which they described as "full of human faeces, about two months old".
One large trailer at the plant is estimated to contain around seven tonnes of waste, while a 40-foot goods vehicle is reportedly full of soiled disposable clothing such as nappies and pads.
A further two trailers from Newcastle are also being held at Wester Gourdie but staff said they were not sure of its contents because it had not been opened prior to redundancy notices being issued.
It is understood the Dundee site has only been leased until the end of March, with a new occupier due to take over tenancy in April.
One worker, who asked not to be named, further alleged pallets up to three years old are currently being held at the company's Shotts centre without the knowledge of health officials.
He said: "We would travel down there most Friday nights so I'm very familiar with the set up there. As far as the NHS is concerned, it's all been destroyed but we know for a fact that's complete rubbish."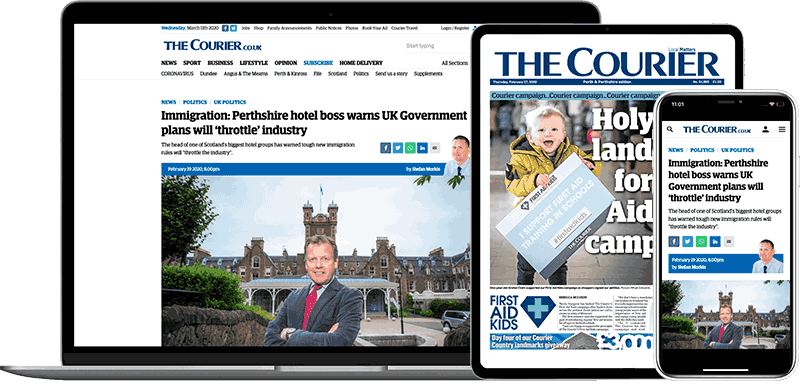 Help support quality local journalism … become a digital subscriber to The Courier
For as little as £5.99 a month you can access all of our content, including Premium articles.
Subscribe