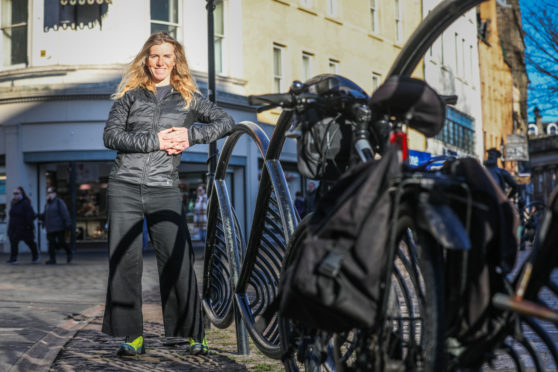 More than 200 delegates from across Scotland were in Dundee to discuss the changing face of transportation.
The Caird Hall event on was also the first official appearance of newly-appointed active nation commissioner for the Scottish Government, Lee Craigie.
The commissioner met people responsible for delivering walking and cycling infrastructure from almost every local authority in Scotland.
The Sustrans event Raising the Standards Day is an annual "knowledge sharing" event that brings relevant people together to share their ideas and projects.
Representatives from community groups, NHS, universities and colleges and the Scottish Government also attended.
Ms Craigie addressed the crowd and spoke about the benefits of diversifying travel options.
Other speakers on the day included Mikael Colville-Andersen, the Danish urban designer involved in transforming Copenhagen's cycling infrastructure.
Dundee City Council launched a public consultation last year that could see three major commuter routes into the city centre having their road surface "reallocated" to make way for cycle paths.
While Ms Craigie is supportive of the project "in principle", she warned that it has to be done properly.
She said: "I think so often in the past this sort of thing has been done with the best intentions, but not actually done properly. It's got to be done right.
"But an event like this is about sharing good ideas. That's what this is about, to show best practice."
Ms Craigie was announced as active nation commissioner for Scotland in December. The new position makes her an official representative for walking, cycling and physical activity.
She has spoken to rooms full of people before but admitted her first address in the new role felt different.
"I do this sort of stuff a lot so I'm used to meeting people to promote actually travelling but it does feel a bit different," she added.
"Overall, the whole thing has been exciting though.
"I am delighted to have been tasked with the privilege and responsibility of helping more people to realise the benefits of walking and cycling for every day journeys.
"This event is a great opportunity to meet the technical experts and those in charge of delivery and learn about the challenges faced on the ground."
John Lauder, Sustrans Scotland national director, said: "Sustrans Scotland warmly welcome Lee Craigie to her role and we are delighted that she has chosen to attend our Raising the Standards Day event as her first official appearance.
"It is a great opportunity to hear from Lee and for her to learn about, and discuss, many of the challenges and opportunity we all face in making Scotland a more active nation."