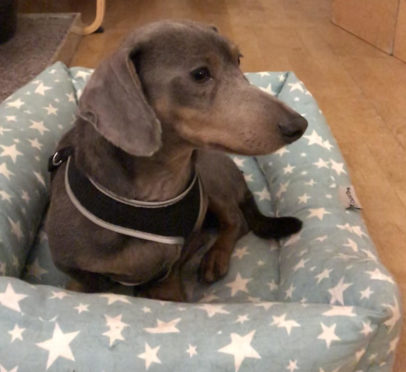 A Dundee Dachshund got more than he bargained for when he scoffed a tray of cupcakes — and got a cocktail stick stuck in his throat.
Ravenous sausage dog Buddy needed an emergency dash to the vet after he wolfed down 10 of the mermaid-themed cakes.
The treats had been made by owner Ellie Hothersall's 11-year-old daughter, Elspeth, using a decorating kit she got for Christmas and resourceful Buddy clambered up on to the kitchen table via a nearby chair to get to the goodies.
The sugary feast made the three-year-old Dachshund sick but events took a more dramatic turn when Ellie realised that one of the cocktail sticks used in the decorations had gone missing.
Ellie, from Broughty Ferry, said: "We knew something bad had happened, but couldn't see anything so we called our vets.
"It was 9.30pm so they took Buddy to Vets Now in Dundee which provides emergency care for pets in the area.
"At the clinic, the vet discovered the cocktail stick had stuck in his tongue and soft palate of his throat. Thankfully the vets were able to get it out quickly once they'd found where it was. If the stick had been further down it would have been a lot more complicated.
"We got Buddy back the next day after he'd been given painkillers and kept under observation, in case there were any complications."
Stephan Hunt, a veterinary surgeon at Vets Now in Dundee, said the cocktail stick had become stuck at the back of Buddy's throat, just above the larynx, embedding itself about 2cm into his tongue.
He added: "I had to cut the cocktail stick in half to remove it. But thankfully, Buddy did not suffer any serious oesophageal or gastric injuries, so there was no lasting damage.
"He recovered well in the clinic that night, despite eating all that icing, and I'm glad to hear he's now back to full strength.
"Hopefully, his case will serve as a reminder to other dog owners to keep human foods well out of reach of their pets."