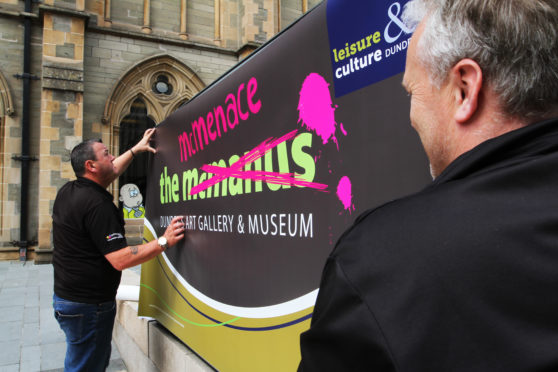 A "genius" name-change stunt which led to the creation of the McMenace Galleries has seen the Dundee museum shortlisted for a prestigious UK-wide PR award.
Bash Street's Back at the McMenace, held last summer at the McManus Art Gallery and Museum, was the most popular comics exhibition of all time in the UK, pulling in more than 100,000 visitors.
The Meadowside tourist attraction, run by Leisure & Culture Dundee, has now found itself up against against some of the country's leading public relations agencies in the stunt of the year category in the PR Moment Awards.
The exhibition was launched as part of the 80-year anniversary celebrations for the much loved Beano comic, which made global megastars of the likes of Dennis the Menace and the Bash Street Kids.
The team at the landmark even put up new signs for the occasion, prompting  thousands of visitors to rush for photos next to it.
Beano bosses created an original comic strip starring the Bash Street Kids designing the new sign for the McMenace.
The museum also changed its digital handles on social media platforms such as Facebook and Twitter as part of the re-branding.
Mike Stirling, head of Beano Studios Scotland, said: "It's brilliant to see McMenace, I mean McManus, receive recognition for what was a bold and brilliant way to emphasise just how far the museum was prepared to go to make art imitate life.
"It was a jaw-dropping genius move, bringing the Beano comic to life, in its home city.
"Every piece of signage, including the digital footprint was changed to reflect the stunt.  That's the power of a museum thinking kid and reaching new audiences."
Sinclair Aitken, chairman of Leisure & Culture Dundee, said: "This was a fun and memorable publicity stunt that provided a springboard for Bash Street's Back at The McMenace to become the most popular comics exhibition of all time in the UK.
"We stayed true to Beano's spirit of rebellion and reputation as mischief makers and challenged perceptions about museums to achieve record visitor numbers.
"The McManus is already recognised for its nationally significant collections and we succeeded in further developing a national audience for those collections."
The 105,769 visitors to the exhibition was almost double the previous high of 54,000 who visited Comics Unmasked at the British Library in 2014.
Meanwhile, Beano Studios have announced a 52-episode second series of the hit animated TV show Dennis & Gnasher: Unleashed! has been ordered for CBBC.
The announcement follows the successful launch of the International Emmy nominated CGI show, which was the highest rated animated show on CBBC at launch for 6-12-year-olds and a top 10 show for children across all channels, (including The X Factor and Strictly Come Dancing) in 2017.