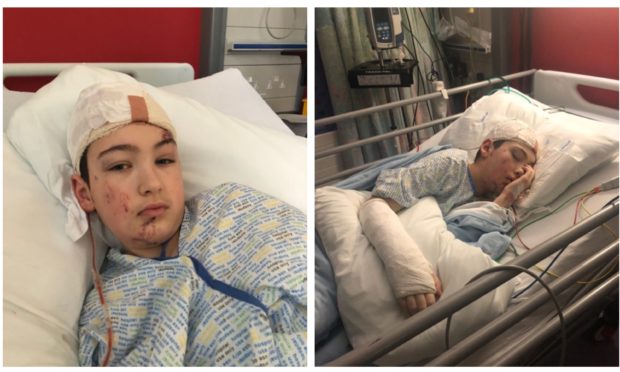 Youngsters are being warned to wear helmets when cycling after a 12-year-old from Dundee was seriously injured in a crash with a bus.
Ricky Rae junior was cycling home from school on Monday, shortly after 4pm, when the accident happened on Strathmartine Road, near to the junction with Dunavon Gardens.
He accidentally left the pavement on his bike and was thrown against the windscreen of an Xplore Dundee bus, causing it to smash.
He then fell to the ground and ended up the middle of the road.
The youth, who was not wearing a helmet, was taken to Ninewells Hospital, in Dundee, with a bad cut to his scalp, a broken right wrist and cuts and bruises to his face.
Ricky Rae senior, the youngster's  46-year-old father, said: "He was not wearing a cycling helmet at the time.
"If Ricky had been wearing a helmet then he wouldn't have been so badly hurt.
"Kids are taking cycle helmets out of the house but they then put them in a school bag as it is not seen as cool to wear them.
"We want to use this situation to stress to kids they need to wear helmets while cycling."
Ricky junior is a pupil at Baldragon Academy in the city and his father wants to hold an assembly or project at the school, to highlight the importance of wearing a helmet.
At the time of the crash Ricky was cycling to the house of his mother, Suzan Gilham, in Bridgefoot.
He was let out of hospital on February 14, after receiving treatment for the injuries caused in the accident.
The youngster, who also has two brothers Nicholas, 10, and Ethan, seven, suffers flash backs of the crash when he is asleep.
A Dundee City Council spokesperson said: "The school has been in touch with the family to offer support.
"Bike skills sessions have been offered in the school and they are looking to build on this in the future."
Police Scotland and an ambulance crew attended the crash scene and the road was closed for a short time on Monday.
The police are taking no further action and described the crash as a minor accident.
A spokesman for Xplore Dundee said: "We hope that the young fellow is alright.
"The bus was taken out of service so repairs could be carried out."