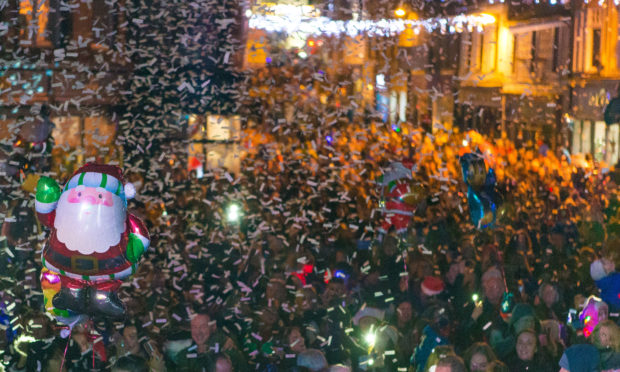 Dunfermline's Christmas extravaganza will go ahead this year, despite the demise of its previous organisers.
A Santa dash and a Britain's Got Talent contestant will signal the start of the festive celebrations when the lights are switched on next month.
The festivities were thrown into doubt earlier this year when business improvement company Dunfermline Delivers folded and events including the annual fireworks display, which regularly attracted more than 40,000 people, were cancelled.
A new company has now risen from the ashes after Fife Council approved £100,000 of transitional funding to keep town centre initiatives and events going until the end of the financial year.
The group, known as Delivering Dunfermline, has been given six months to come up with new, longer-term funding streams.
Run by a new executive board, including some former Dunfermline Delivers members, it will engage with the community as a whole rather than just businesses.
The Christmas lights switch-on on November 16 will be its first event.
The Santa dash runners will get on their marks outside Marks and Spencer at noon, while 14-year-old Kerr James from Cambuslang, who wowed Simon Cowell and fellow judges on Britain's Got Talent, will perform.
The Kingsgate shopping centre will also host activities with family craft sessions and a crafters' market organised during the afternoon.
The Christmas parade starts outside Marks and Spencer at 4.30pm and will travel to the Glen Gates accompanied by Santa's sleigh, Dunfermline Pipe Band and an accordion band, for the switch-on at 5.30pm.
Chris Foote, from Delivering Dunfermline, said: "The Christmas light switch-on event is a long-standing community event in the town and we're looking forward to welcoming families to Dunfermline town centre for this much-loved start to the festive season."
Previous company Dunfermline Delivers was officially wound up on September 20 after it lost its renewal ballot.
Councillors were warned that without an organisation to replace it, the town centre faced "significant threats" including a rise in crime, anti-social behaviour, a drop in footfall, more empty shops and fewer events.