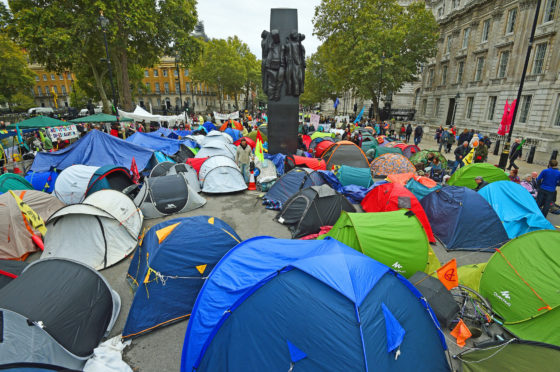 "You either die a hero, or you live long enough to see yourself become the villain."
Film fans will probably recognise that quote from The Dark Knight, being gruffly delivered by Christian Bale, but it sprung to my mind this week as I watched footage of an Extinction Rebellion protestor being hauled off the top of a tube train in London.
I'd hazard a guess that most Fifers agree with the sentiment behind the group's demonstrations.
Climate change deniers are running out of excuse; the world is facing a climate emergency and those in power must change course before it's too late.
If the protests in London have achieved anything, it's the fact we know who Extinction Rebellion are, what the organisation stands for, and the fact that the high heidyins of various governments are now seriously talking about climate change.
However, any sympathy people hold for the cause may be in serious danger of being eroded if the scenes in Canning Town are anything to go with.
The protests also came to the streets of St Andrews earlier in the week, when more than 50 students and locals staged a 15-minute die-in and silent protest in Church Square.
They got the message across and ensured disruption to other people's lives was minimal.
I can live with the fact that hundreds of youngsters took a day off school earlier this year to take part in climate change protests, even if a sizeable proportion of them just fancied a day on the Playstation.
But when you see hundreds of people blocking major routes in London for days on end, glueing themselves to the gates of Downing Street, preventing planes from taking off and stopping people going about their business, you have to wonder how the tide will turn.
They aren't all "smug middle-class vegans", as one commentator bluntly described them as this week, but the more so-called ordinary people are inconvenienced the more likely Extinction Rebellion are going to be viewed as an elitist enemy.
And given the importance of the issue to our future generations, that's not in anyone's best interests.
Clogging up roads and pushing people's buttons might get you noticed, but it's unlikely to win you any friends.