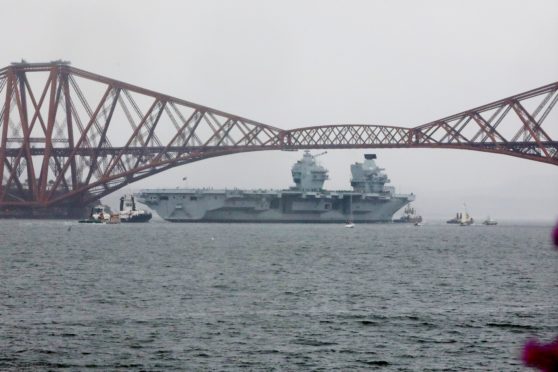 The second of two Royal Navy aircraft carriers built in Rosyth has arrived at her home port of Portsmouth.
HMS Prince of Wales sailed into the naval base on Saturday as hundreds of people watched from the shore.
The milestone marked the successful completion of the first stage of her sea trials, nearly two weeks ahead of schedule.
Weighing 65,000 tonnes and boasting a 280-metre long flight deck, the warship left Rosyth nine weeks ago.
It and HMS Queen Elizabeth were built by the Aircraft Carrier Alliance, which comprises BAE Systems, Babcock, Thales and the Ministry of Defence.
Alliance managing director Sir Simon Lister said: "Today is an important day for our employees and the Royal Navy.
"Delivering next generation naval capability of this complexity is not only a proud moment for our employees but also showcases the industrial capability within the UK.
"This programme has brought together the best of British imagination, ingenuity and invention and I am extremely proud of our teams who have shown relentless drive, energy and a continued focus on ensuring we deliver the very best for the Royal Navy."
Among the tests of HMS Prince of Wales' capability were the landing of a Merlin Mk2 and running engines at full power.
All 158 essential systems were tried, including power and propulsion, radars, communications and hotel and platform services.
The Queen Elizabeth Class aircraft carriers are the largest, most capable and powerful surface warships ever constructed in the UK, each providing the country's armed forces with a four acre military operating base.
Once fully operational, the ships will provide the forward deployed base for the UK's F-35B aircraft.