Health chiefs in Fife have been warned it would be "dangerous" to view a fall in drug deaths last year as a success, after further analysis highlighted worrying patterns.
Members of the region's integrated joint board (IJB) considered the Fife Alcohol and Drug Partnership's annual report for 2018/19, which revealed the number of drug-related deaths in the region last year dropped from 66 to 64.
Fife was one of just four health board areas across Scotland – along with Dumfries and Galloway, Shetland and the Western Isles – improved, bucking the Scotland-wide trend which saw drug mortality figures rise from 934 in 2017 to 1,187 last year.
While the Fife statistics have been welcomed, Phillip Heaton, policy officer with the Fife ADP, stressed there is no room for complacency after reviewing the circumstances surrounding every drug-related death in the kingdom.
Cocaine and crack cocaine as a contributory factor doubled in the past year, while it has emerged fewer than five of the 64 drug-related death victims recorded last year had only one substance present in toxicology, sparking renewed fears about the potentially lethal cocktails of illicit substances being taken.
Mr Heaton said: "Although the total mortality figure fell, it would be dangerous to view this as a trend or stabilisation and the work of groups like Fife's Overdose Prevention and Drug Death Monitoring Group as well as efforts by other bodies such as Public Health and wider ADP services, is as valuable and urgent as ever.
"Any attempt to stabilise and reduce Fife's drug-related deaths cannot rely on ADP funded services alone and will require action across systems as well being shaped by the voice of lived experience as individuals, families, communities."
Research by the ADP revealed the Fife deaths which included use of cocaine – including crack – doubled from eight cases in 2017 to 16 in 2019.
Heroin and/or morphine was present in 80% of toxicology results, although gabapentinoids was a contributory factor in almost three quarters of the deaths.
The vast majority of people who died were aged between 35 and 44 did so in their own home and someone else was said to be present in 53% of the deaths.
As many as 28 of the 64 deaths occurred whilst someone known to the victim was in the same room, either friends, partners or close family members.
Almost all of the deaths also occurred in places of high economic deprivation, while more than half – 51% – suffered from depression, a third suffered from anxiety, 18% had hepatitis C and 11% suffered from epilepsy.
Mr Heaton said: "When considering the housing status of the drug-related death victims, it is important to recognise that in many cases the living arrangements varied frequently, and the lifestyles of a number of these individuals could be described as chaotic.
"During the analysis of these cases, it became clear that these deaths had been unintentional and, in theory, preventable if partners/friends and relatives were able to spot tell-tale signs of overdose situations."
Just over £8.2 million has been spent from various sources on preventing alcohol and drug use, harm and related death in Fife in the past year and lessons learned from the research will underpin agencies' work moving forward.
Warnings over rogue drug batches
Habitual drug users in Fife have been urged to heed fresh warnings about potentially lethal substances which have been found in local communities.
Drug agencies have warned people about a "deadly" batch of Diazepam tablets being sold in Scotland which have been mixed with dry bleach and could prove fatal to unsuspecting addicts.
The pills, also known as street Valium, are said to be larger than a normal Diazepam tablet and have a squiggle on the back that resembles a V.
The Courier understands authorities have come across the drugs a number of times across Fife in recent weeks and it remains unclear whether the pills are linked to the deaths of at least five people in the space of just four weeks, which came to light in the Levenmouth area in October.
Meanwhile, a batch of heroin that has been cut with what have been described as new psychoactive substances (NPS) is also said to be in circulation in Fife.
NPS are a range of drugs designed to mimic established illicit drugs, such as cannabis, cocaine, ecstasy and LSD, and again could prove fatal in certain circumstances.
Martin Balmer, project manager for Addaction, a specialist harm reduction service based in Leven, highlighted the risks being taken by drug users consuming a cocktail of drugs.
"Death is not usually from one substance but its use among a variety of others that has the devastating effect," he said.
"We would continue to urge those users out there to get substances checked wherever possible from the services that are provided."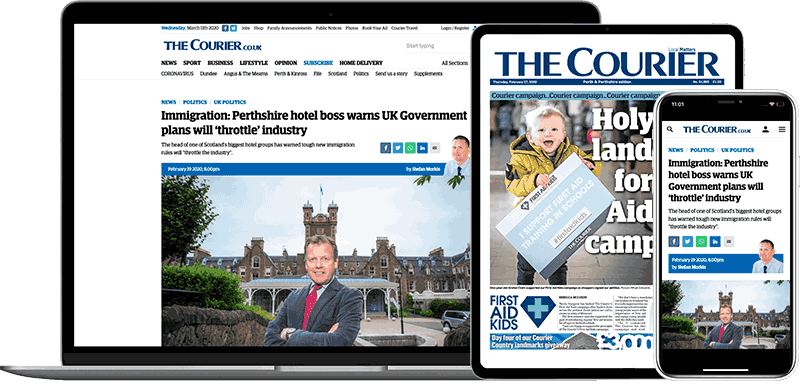 Help support quality local journalism … become a digital subscriber to The Courier
For as little as £5.99 a month you can access all of our content, including Premium articles.
Subscribe