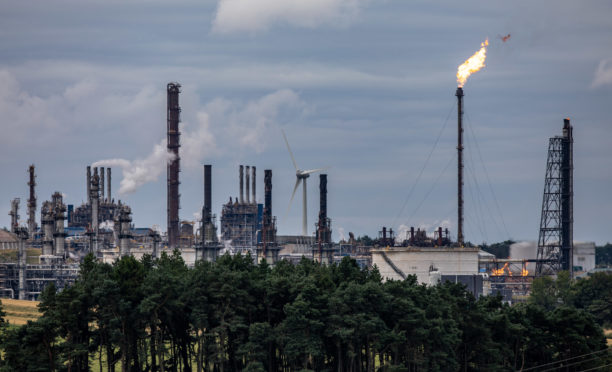 Flaring will be carried out at Mossmorran on the first weekend of the Christmas holidays.
Neighbours of the Cowdenbeath plant were warned of the potential disruption from Shell's elevated flare stack on Sunday, as work continues towards the restart of Fife Ethylene Plant.
The news follows a pledge from ExxonMobil Chemical just over a week ago that there would be no flaring in the coming weeks.
No elevated flaring at Mossmorran over Christmas holidays says operator
Linda Holt, of Mossmorran Action Group, said locals would be disappointed to learn of the move.
She said: "People are still going to be subject to the noise, vibration and the disruption from the light of the flaring for quite a long time.
"There isn't a clear end in sight and people will be upset about that."
Shell, which operates the Fife NGL Plant as part of the Mossmorran complex, insisted the process would not be high volume and that no elevated flaring would take place over Christmas.
Environment agency Sepa has been notified of the plans.
Fife NGL Plant will use its elevated flare stack for several hours to allow Fife Ethylene Plant to carry out work ahead of the scheduled restart in January.
It comes after the Fife Ethylene Plant was shut down in August following the failure of two boilers.
Shell has taken measures to reduce the amount of ethane piped to Mossmorran during the shutdown and is putting ethane into the mix it sends to the national grid.
Fife NGL Plant ground flares have been used to burn the ethane still arriving.
Teresa Waddington, manager of the Shell plant, said: "I have agreed to a plan to use the Fife NGL elevated flare stack for a few hours on Sunday to enable FEP to carry out some work on their plant as they build towards start-up in January.
"It should not be high volume and we are working hard to ensure there is minimal elevated flaring during their work before Christmas; there is none planned over Christmas."
She said Shell was "very conscious" of the community impact of ground flaring but it was important for its plant to continue as its operation allowed methane gas to be separated to supplies homes, businesses and power stations.
The plant also supplies propane, butane and gasoline to thousands of customers.
Mrs Waddington said: "Both these aspects of energy supply are as necessary over Christmas and the winter as during the rest of the year.
"Within this unusual operating mode at Mossmorran, we will continue to manage our operations to keep flaring to a minimum."
She said Shell would continue to operate with "care, and with the community in mind" over Christmas.
Fife Ethylene Plant said the works would allow a key piece of work on its flare stack.
Manager Jacob McAllister said: "We will move to complete this work as safely and as quickly as possible, following which FEP will then return to its current configuration."