An agreement has been struck to finally remove a rotting mound of commercial waste which has blotted the Fife landscape for the past seven years.
The Scottish Environmental Protection Agency (SEPA) has confirmed Transbrittania Ltd, the owners of the Lathalmond Commerce site, have come to an agreement to clean up the waste dump.
The firm has developed a costed plan which will consider options for recycling or disposal of the rubbish. It is expected to be presented to SEPA by the end of January.
It is now years since Labour MSP Alex Rowley, then Fife Council leader, demanded the eyesore be cleaned up, with the cost of doing so likely to be an estimated £1 million.
The site has blighted the landscape since recycling company First Option Services ceased trading in 2012.
In 2016, two directors of the firm were ordered to carry out unpaid work after being convicted of keeping controlled waste at the site in a manner likely to cause environmental pollution or harm to human health.
During the case, Dunfermline Sheriff Court heard there was potential for the waste to produce toxic hydrogen sulphide gas.
A spokesperson for the Scottish Environment Protection Agency (Sepa) said: "Every day, Sepa works to protect and enhance Scotland's environment and we remain firmly focused on finding a solution for the removal of waste from the Lathalmond site.
"Having successfully stopped illegal activity and secured prosecutions against the two individuals responsible, Sepa's focus remains on clearance of waste from the Lathalmond site.
"Sepa initiated a meeting with the landowner last week and is working with wider public partners on finding a sustainable solution for clearing the site."
Douglas Chapman SNP MP for Dunfermline and West Fife, in whose constituency the site lies, has welcomed the news.
He said: "This is the first real progress we have seen on getting this eye-sore cleaned up after years of stalemate and I think we can put this down as a win for the constituency.
"I am pleased Transbrittania has stepped up to pay for the clearance of the site, although the issue was not caused by them.
"Having visited the site myself and witnessed the danger it poses to the environment and to the people who work there.
"The site is close to the Vintage Bus Museum and I would imagine visitors would not take too kindly to be having to pass by this rubbish site on their way to the museum.
"I hope this is the first step in getting this eye-sore removed and I look forward to seeing the plans being put forward by the land-owners."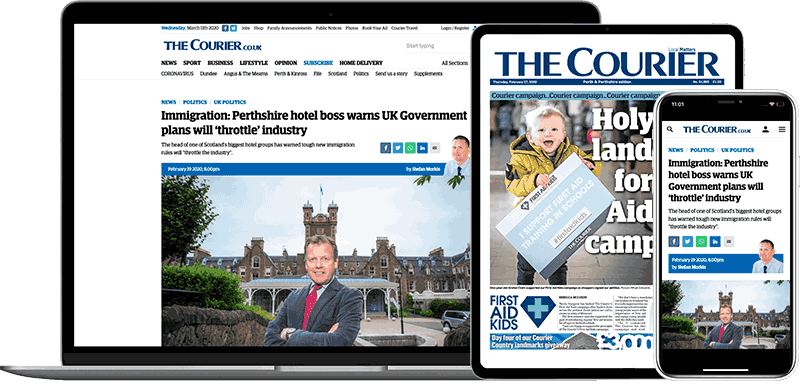 Help support quality local journalism … become a digital subscriber to The Courier
For as little as £5.99 a month you can access all of our content, including Premium articles.
Subscribe