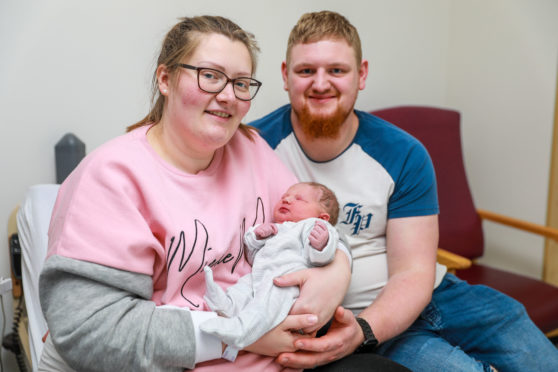 Little Evie Mackie was the first baby to be welcomed into the world in Fife this decade.
Just hours after much of Scotland celebrated the new year, proud parents Stephanie, 24, and Shaun Mackie toasted new daughter, Evie at Victoria Hospital in Kirkcaldy.
A wee sister for Emily, 6, and three-year-old, Ethan, Evie was not due until January 12 but mum Stephanie was induced on Hogmanay and she arrived at 6.08am, weighing 7lb, 8oz.
The Glenrothes couple said they were as proud as punch with their new daughter.
Less than three hours later little Anna Grenda made a speedy arrival at the same maternity unit.
Parents Marta and Szymon, from Cowdenbeath, had arrived at the hospital at 8.45am and only had to wait 15 minutes until Anna was in their arms.
The Polish couple moved to the UK in 2011 and have a two-year-old son, Adam.
Finally, baby Malana made a surprise entrance into the world at 10.36am.
Arriving two weeks earlier than expected to Vicky Burkevica, 39, and Malang Sambou, 42, she weighed just 4lb, 90z.
She was a third baby for the Dunfermline couple.