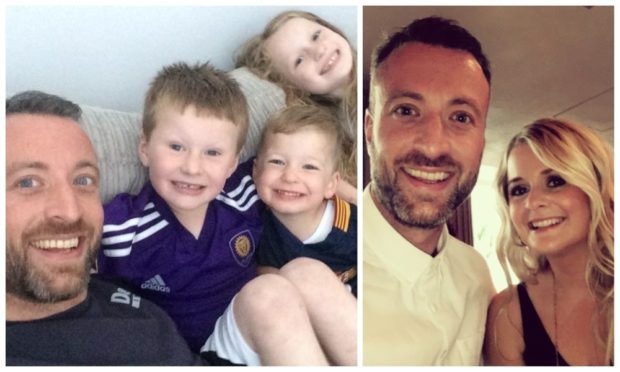 A widow who lost her husband to a brain tumour when he was just 33 has met researchers working to find a cure for the devastating disease.
Kerry Brown toured the Brain Tumour Research Centre at Queen Mary University Hospital in London, where she placed three tiles on the wall of hope in memory of husband Andy, who died in July 2018.
She was invited to the laboratory after competing in the London Marathon and raising £9,224 for the charity Brain Tumour Research – enough to fund at least three days of research.
Father-of-four Andy, from Dunfermline, died six months after he was diagnosed with an aggressive gioblastoma multiforme (GBM) brain tumour and a month after he and Kerry married.
He had been through six major operations as well as gruelling rounds of radiotherapy and chemotherapy.
An operations support manager at JP Morgan Chase in Edinburgh, Andy managed to come home for a month in May 2018 and proposed to Kerry on the day he was discharged.
Kerry and the couple's children Eve, now 11, Connor, nine, Liam, six and two-year-old Lewis were devastated when he lost his fight and have had to adjust to life without him.
"He didn't deserve this and had so much to live for," said Kerry.
"His children do not deserve to grow up without their daddy. Andy was one in a million and we miss him terribly."
She added: "Through my own devastating experience, I became aware of how tragically underfunded research into brain tumours remains.
"Nothing could be done to save my husband and it seems incomprehensible to me that treatment options remain so limited.
"Grief devastates families and through my decision to support Brain Tumour Research, I hope to make a difference to hep prevent others going through what we've endured."
Andy's death was the second time the family had been affected by a brain tumour.
Kerry's older brother Lee Keicher, now 35, of Dunfermline survived a tumour as a baby but the radiotherapy treatment he endured left him with learning difficulties and other lifelong effects.
An MRI scan following a recent stroke revealed a blockage to part of his brain and damage to the white matter in the brain.
Kerry was accompanied on her trip to London by her mother Susan Tennant.
Joe Woolcott from Brain Tumour Research in Scotland said: "Kerry's fundraising will make a big difference to help improve outcomes for all brain tumour patients in the future."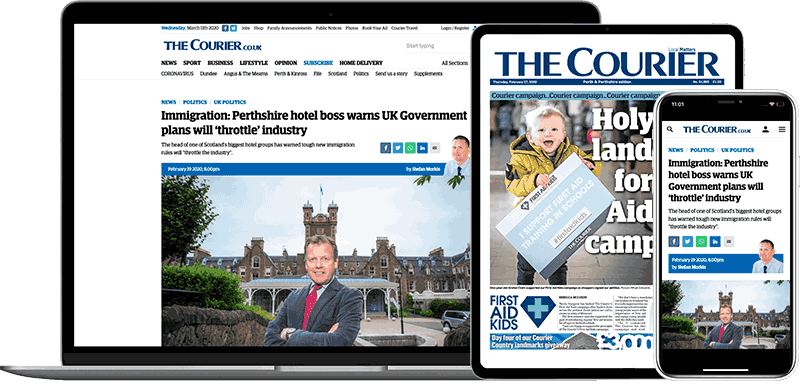 Help support quality local journalism … become a digital subscriber to The Courier
For as little as £5.99 a month you can access all of our content, including Premium articles.
Subscribe