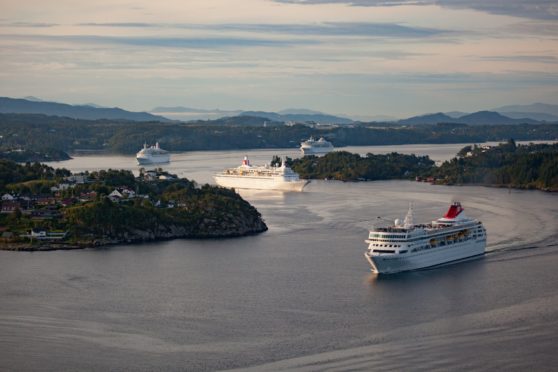 Ferries which normally carry passengers across the English Channel have come to the Firth of Forth while out of service.
MS Pride of Canterbury and MS Pride of Bruges sailed north for safe haven.
They were anchored in the Forth, alongside cruise ships which have had sailings suspended, but have now moved into the Port of Leith.
Fred. Olsen Cruise Lines brought four of its vessels, Black Watch, Braemar, Boudicca and Balmoral, into the Forth to anchor last month.
Several crew members on the Black Watch were struck down by a Covid-19 outbreak while at anchor, but all are said to have since recovered.
Braemar hit the headlines in March when it became stranded in the Caribbean with five people on board tested positive for the virus.
Both the Pride of Canterbury and Pride of Bruges normally operate on the Dover to Calais route.
Although P&O Ferries is still operating channel services to and from France, foot passenger services are suspended.
The company has furloughed hundreds of its staff and laid up four of its vessels as the travel ban has impacted on passenger numbers.
A spokeswoman for Forth Ports said: "Forth Ports has been providing safe haven for a number of vessels during the lockdown, for example the four Fred. Olsen vessels that are currently anchored in the Forth estuary.
"We are expecting two ferries owned by P&O into the Port of Leith.
"We have a strong group relationship with P&O who operate a freight ferry service out of our port at Tilbury on the Thames."
P&O Ferries chief executive officer Janette Bell recently said that the company had had to make some "tough decisions" to keep the business strong.
The firm declined to comment on the anchoring of its vessels in the Forth.