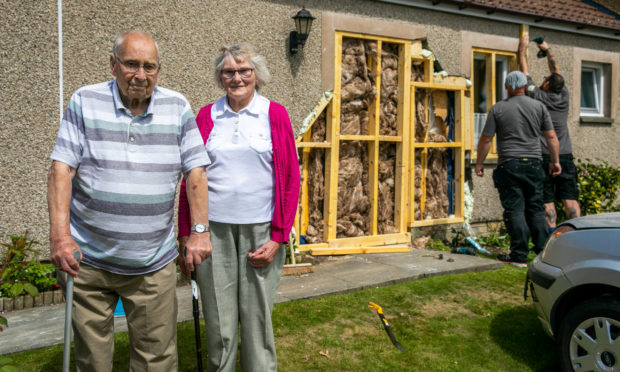 An elderly Fife couple has been left homeless and in shock after a runaway vehicle ploughed into their car and wrecked the front of their house.
Neighbours said it was a miracle 86-year-old Tam Pryde and his wife Sheila, 83, were not killed in Wednesday's freak accident, just minutes after they returned home from a doctor's appointment.
The disabled Largoward couple had got as far as the kitchen to switch on the kettle when they heard an almighty bang at the front door.
Horrified Tam said: "We went to see what it was and found our car right in the hall."
He said a BMW belonging to a neighbour in Hall Park was being valeted when it suddenly careered across the road and into the back of his Ford Fusion, forcing it into their bungalow.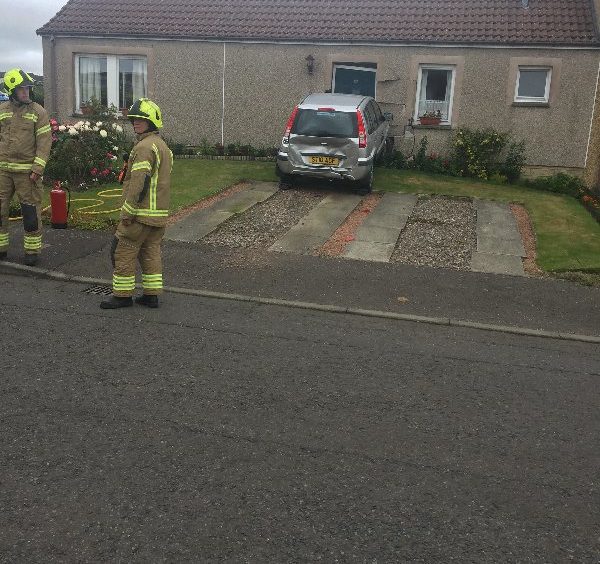 The extent of the structural damage means major repairs are needed and Tam and Sheila will be unable to return to the home they have shared for 20 years for some time.
Police are investigating and landlords Kingdom Housing are carrying out a full structural assessment.
They have offered the couple a house in the same street until repairs are complete, although it will not be available for another week.
Tam, who has two artificial hips and walks with the aid of a frame, said he and Sheila were desperate to stay in their own community where neighbours were happy to lend a hand.
"I've lived in Largoward for 55 years and Sheila has been here all her life. We don't want to move," he said.
"It seemed like the whole village was out helping us when this happened."
The pair spent Wednesday night with next door neighbour Linda Wright, who had just brought them back from their appointment when the accident happened at around 11.30am.
"I can only thank the Lord it was kind of raining and they weren't out in their garden," she said.
"They love their front garden and would normally have stopped to potter around in it.
"It's a busy street for children as well and they'd normally be out playing.
"It's a miracle nobody was hurt."
A spokesperson for Kingdom Housing said stabilisation work at Mr and Mrs Pryde's home was already under way.
"Another property in Largoward, just a few doors away has become available this week," he said.
"The property needs a limited amount of work to make it ready for occupation and we expect it to be available by the end of next week.
"We plan to relocate Mr and Mrs Pryde to this property which will allow them to stay within their community until remedial work is completed and they are able to return to their own home.
"We are able to provide emergency accommodation until the temporary property is ready, but Mr and Mrs Pryde have made their own interim arrangements locally and have advised us that they are happy with that."